Desiree Nozling has a longtime friend whose son has disabilities, and he brought her into contact with people at CHOICE, Inc. Their happiness captured her attention.
It was a first step in her journey to become a direct support professional (DSP) with the Eden Prairie provider of employment and community support services. "I just loved the attitudes of everybody," said Nozling, who is now in her third year with the nonprofit. She previously served as a cook manager in a school.
Now, Nozling, who can't wait to come to work, spreads her positive attitude everywhere she goes. "It's like you're a rock star, every day," she said. Adored by the people CHOICE serves, Nozling also enjoys the variety her job provides.
She teaches cooking, supervises at job sites, and takes people out into the community to volunteer. From the library, stores and malls, to the Minnesota Landscape Arboretum and a bunny at Petco needing care, every day is different.
People with disabilities want to be active, and interactive in the community, Nozling explains. DSPs make that happen.
Supervisor Nicole Forse said Nozling's constant smiles lighten and brighten the day for others. The DSP serves as a role model for new staff members. "She's pretty wonderful," said Forse.
Interaction at CHOICE is constant. There is no television. Instead, there are options people can choose, like nutrition education, work, exercise, world history and music, Nozling explains. Part of her job is to motivate people to get going, to improve people's lives. "It's rewarding and it never ends," she said. "People are always working to get better."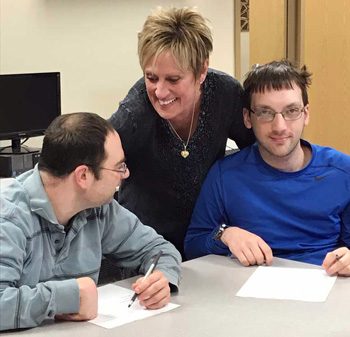 CHOICE employs nearly 40 DSPs, and Executive Director Michael Kraines said they are the key factor in delivering quality services to individuals with disabilities. Kraines said a well-deserved round of applause and cheers erupted for Nozling in a recent staff meeting. She had won the PRIDE Award from CHOICE, special recognition for notable work related conduct.
While providing support, DSPs are the listening ears for people with disabilities, gathering their hopes and dreams and hearing their struggles, Kraines explained. These professionals are also a conduit to make people's preferences known, he said, providing a voice for individuals when one is needed.