MOHR announces 2021 Outstanding Disability Employer Awards
To recognize the valuable role that organizations play in employing people with disabilities, the Minnesota Organization for Habilitation and Rehabilitation (MOHR) announces 11 winners for its Fifth Annual Outstanding Disability Employer Awards.


They coincide with National Disability Employment Awareness Month in October, a tradition that dates back to a Congressional proclamation in 1945. This year's theme is "America's Recovery: Powered by Inclusion."

Exceptional employers deserve public appreciation, and MOHR has an important statewide role to play in trumpeting the important impact they have on the individuals with disabilities members serve.
Annandale Art and Textile Center
MOHR Member: Functional Industries, Buffalo
Annandale Art and Textile Center (AATC) produces woven textile pieces for many household items and décor, including placemats, coasters, wall hangings and ru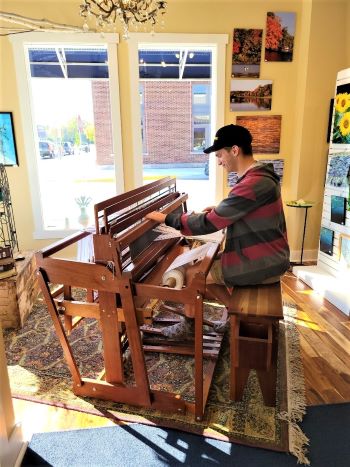 gs. It offers an art, fine craft and gift gallery. The operation hires people with disabilities to do work for two primary reasons, says Vocational Rehabilitation Supervisor Ashley Nordlie at Functional Industries – to provide value to the industry and for individual gains. The weaving they perform improves daily living skills and complex body movements. Supports are where the center really shines, says Nordlie, showing people's strengths and turning their weaknesses around. "We, at Functional Industries are so grateful to have this wonderful partnership to offer to individuals."
Crest Healthcare, Dassel
Adult Training and Habilitation Center (ATHC), Winsted

Crest Healthcare utilizes a hand assembly team from ATHC in its work to supply products for hospitals and other healthcare facilities. Direct support professional Kathy Peterson has worked with individuals at Crest for 25 years, and said they appreciate the variety of jobs and friendly atmosphere at the company. It's a social environment that values inclusion, as ATHC clients join in company events, holiday celebrations and luncheons, explains ATHC Executive Director Tonia Bymers. They are placed in positions where they can be the most successful based on their ability, she said. Individuals build their self-confidence and feel connected to the organization and community. "They like to tell others about where they work and what they do," said Bartholomew. "Individuals are happy to be part of the team." Responsibility and a sense of accomplishment are also apparent.
Healthy for Life Meals, New Hope
Partnership Resources, Minneapolis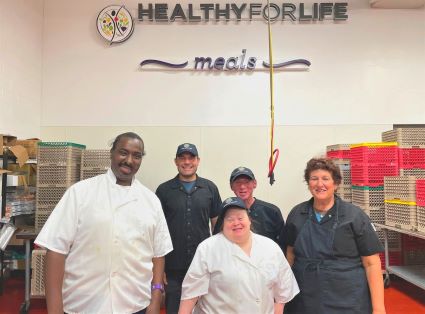 PRI has provided community-based services to individuals with disabilities at Healthy for Life Meals for 17 years. It is a nutritionally controlled, fresh meal service based in in New Hope that prepares, packages and delivers complete, chef-prepared, balanced meal plans. The meals follow guidelines set by health and nutritio
n experts, providing the nutritional content needed to help safely reach and maintain weight loss and other health-related goals, explains PRI Development Director Jennifer Crosby-Zarth. With just 28 employees, HFLM embraces the PRI team as an integral part of the complete team. The group fills an important role in assuring the integrity of the nutritional content of each meal by executing critical measuring and portioning functions for the various meal components – an important step in the meal packaging process, explains Crosby-Zarth.
Holiday Stationstores, Two Harbors
Lake County DAC, Two Harbors
The relationship between a Holiday station in Two Harbors Lake County DAC began with fuel fill-ups and expanded to include an individual with disabilities being hired by the store. Lake County DAC provided a job coach early on for safety in the fuel filling area and to provide some guidance in stocking the cooler, explains employment specialist Tracie Torkelson Assistance. Assistance eventually was reduced as the employee became more independent and was doing the work on his own. The manager and store have also been flexible with the DAC's schedule and have regularly encouraged the employee, Torkelson said. The DAC reviewed Holiday employee policies and expectations, including timeliness, work clothing, teamwork and how to serve customers in a retail setting. The employment specialist hears regularly from the employee about how much he enjoys the job and how he sees many people at work who he has known for years. He's proud to work there, she explains, has grown professionally and is part of a team. He's also treated with respect. The store manager said his hire through Lake County DAC was the best thing he ever did.
Mackenthun's, Waconia
MRCI, Mankato
With high quality deli, bakery and meat departments, Mackenthun's grocery has worked with MRCI clients for many years, said Lisa Cownie, community relations
manager. Individuals from MRCI wash dishes in the deli, manage carts, clean the store, stock products and bag groceries. MRCI job coaches assist with training, and staff are also friendly and supportive, she explained. Excellent communication is a hallmark in this relationship, said Cownie. It's an inclusive, team environment where staff are happy to work with, train and assist new employees, she said. When difficulties arise, Mackenthun's reaches out to MRCI representatives to help with extra coaching or have a team meeting. Regular check-ins are made by MRCI based on individual client needs. Its representatives help with new hire paperwork, coordinating start dates and meetings with supervisors for first days on the job, said Cownie. Mackenthun's coworkers also connect with MRCI staff to update them, offer encouragement for the clients and answer questions.
Medtronic, Fridley
Achieve Services, Blaine
Achieve Services has enjoyed a 16-year relationship with Medtronic that began with mail sorting in the hallway on a card table. Individuals from Achieve now work in the intake lab, records retention and field corrective action departments, and in patient registration services. "Medtronic is so deserving of this award. They have always focused on employees' abilities, and have provided opportunities for Achieve workers to excel. We deeply appreciate their commitment to our community," said Tom Weaver, CEO of Achieve Services. Achieve Services supports 12 individuals at Medtronic, including one who is working remotely. The company appreciates its Achieve employees and recognizes their great work. Thank you emails and words of encouragement are often shared by employees. Medtronic is also a model of inclusion for other businesses, as it recognizes the capabilities of people with disabilities.
Park Rapids School District 309
Hubbard County DAC, Park Rapids



Photo: Robin Fish, Park Rapids Enterprise
Hubbard County DAC provides kitchen workers to Park Rapids schools each day, and a job coach when needed, explains DAC Executive Director Laura Johnson. The work crews cover dishwashing and other kitchen tasks, and to serve lunch. The district has been consistent, yet flexible, said Johnson, offering many opportunities for growth and skill development. Many DAC participants have been hired on directly and some have used the work experiences as a springboard to other employment and greater independence, she explains. "It has also been positive modeling for the students," said Johnson, as they see adults with disabilities working alongside other adult employees. The DAC's "person-centered" focus always looks at the needs, wants, strengths and weaknesses of each participant to provide the best individual supports to help him or her succeed, Johnson explains. The job coach has helped create a system of "natural supports," or built-in help for the individuals with disabilities to accommodate any specific needs. "It is second nature to school staff and HCDAC participant employees are well trained and need little assistance to perform their assigned jobs," said Johnson.
PCs for People, St. Paul
TSE, Inc., St. Paul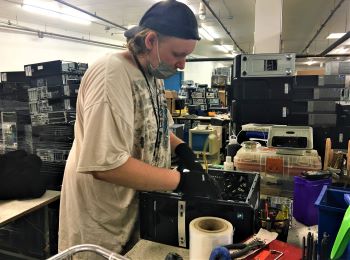 TSE supports nine individuals at PCs for People in St. Paul and communicates regularly with its supervisors. The jobs vary and people have the opportunity to try different tasks to keep them engaged., said TSE Employment Services Director Jim Freeman. Some are testing electronics to determine if they are still usable. Others are working in sorting and some are in shipping. The unofficial "Disciples of Destruction" work in disassembly, breaking down electronics and sorting components into boxes for recycling. He said it's all about relationships and being on the same page. PCs stays in touch with TSE job coaches when specific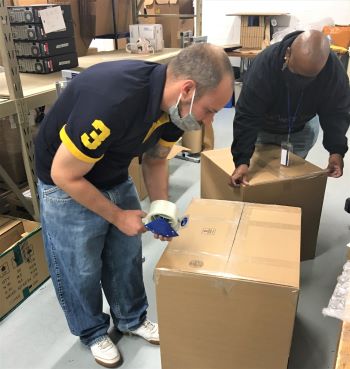 departments have a need and job coaches help line up people who are a good fit. There is no one way to do it, he explains, as each person is supported differently by PCs and TSE, because each has different needs. When new positions open up, there are trial runs with tasks so the recycler and TSE can see how it will go before fully committing to the job, said Freeman.
Ruan/Bobcat, Otsego
Rise, Spring Lake Park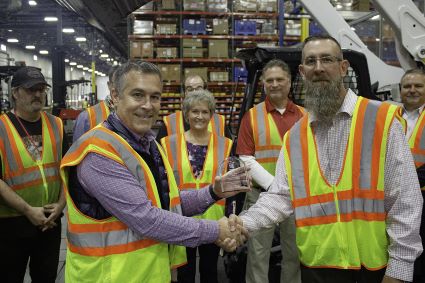 Warehouse Manager Todd Peterson at Ruan/Bobcat in Otsego has been a champion for people with disabilities since he came to the company in 2018, said Kelly Bartnick, communications and volunteer manager for Rise. Bobcat is Ruan's customer. The nonprofit supports 12 individuals at the company, who work with small parts used in Bobcat's production process. Ruan/Bobcat's business is dedicated contract transportation, managed transportation and warehousing. And, Ruan employs technological resources and provides supply chain solutions, the manager explained. The company engages well with Rise crews, who meet with other employees for fun and engaging activities. Bartnick said Ruan/Bobcat's teams enjoy a high level of morale and worker satisfaction is exceptional. 
Sunflower Communities, Elmore
STEP, Inc., Fairmont
STEP supports three individuals at Sunflower Communities who live in neighboring communities. They work in maintenance, dietary and housekeeping roles. Sunflower Communities Regional Executive Chef Troy Thompson said employees supported by STEP have been tremendously versatile in performing different job duties. All of this leads to a smooth-running operation, thanks to their willingness to perform across multiple areas and job roles, he explained. STEP Employment Manager Dominique Berg said each employee expressed a strong desire to have an individual job. The most important thing happened first, he said, having a conversation about the employer's needs. STEP clients are matched with those requirements and levels of training and support are determined. "Our talented employment consultants do a lot of the groundwork," said Berg, who describes the job placement journey as one involving many people along the way. Most the support STEP provides isn't in doing the actual tasks, but soft skills such as getting along with other employees, completing employer training and making requests for time off, Berg explains. They also work on increasing people's stamina to work more hours.
Superior Nets, Superior, Wis.
Udac, Inc., Duluth

Superior Nets manufactures products for sporting facilities and aquatic research. It has a longstanding relationship with Duluth-based Udac, Inc., and was on board when the nonprofit changed its service model toward individual hires instead of contract work, explains Karen Herman, executive director of Udac. After years of utilizing individuals from Udac who were paid special minimum wage, Owner Mark Burns made a direct hire in the summer of 2020 and Udac provided support. Burns identified the employee's ability to work across tasks and train in other areas. The employee is detail-oriented and Burns knew he could advance his skills and master additional tasks, said Herman. The individual employee has increased his independence, and Udac's involvement was ramped down as Superior Nets took on support roles. He's also more socially engaged and verbal since he came on as a regular employee at the company. "Marks' commitment to this effort has spread to other employers who have said yes to hiring 'differently-abled' individuals," Herman said.