Statewide disability 'Tip of the Spear' award winner made lifetime career serving people with disabilities
Lyth Hartz recognized by Minnesota Organization for Habilitation and Rehabilitation for dedicated career of service, growth of St. Paul-based program

Lyth Hartz, president of MSS, received the 2018 "Tip of the Spear" Award from the Minnesota Organization for Habilitation and Rehabilitation.  The statewide honor recognizes individuals who have made an impact and inspire others to take action benefiting individuals with disabilities.
"Lyth's exemplary track record of a half century of serving and supporting people with disabilities is a certain exemplary of our Tip of the Spear," said Lynne Megan, who presented the award at the MOHR Summer Conference in St. Cloud.  Hartz was in the forefront of the movement to transition people from the state institutions into community-based programs.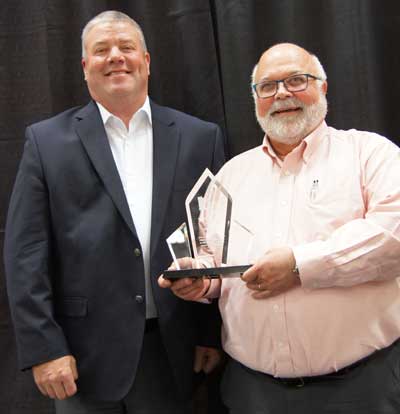 Hartz started as the DAC director for MSS in 1979, and helped grow the program to serve more than 600 people each year, across four counties in the metro area. Much of his success has centered on his demeanor and personality, said Megan.  "He cares. He has absolutely cared, for his entire career."
The winner said he was honored to be nominated by his staff members, and it is the people with disabilities they support and their families who are his inspiration.  Hartz said one special thing about MSS is that he and other administrative staff have their offices in the same areas where the individuals with disabilities receive services.
He is a firm supporter of the concept of choices for the people impacted by programming. "I'm hired to support their version of what their life should be," said Hartz.  "It's inspirational." People with disabilities are some of the most genuine, "real article" people one can meet, he said, noting that the general public can benefit greatly from getting to know these individuals.
MSS is known for the more than 100 artists with disabilities who participate in The Show Gallery Lowertown in St. Paul. Hartz has been an unwavering supporter of the arts. He's also been active in a number of community organizations, including Civitan in St. Paul, which he founded in 1980. Additionally, Hartz served as a speaker for the United Way, a Boy Scout scoutmaster and is an active member of his church.
The Minnesota Organization for Habilitation and Rehabilitation (MOHR) is comprised of more than 100 Adult Day, day training and habilitation, extended employment, and supported employment service provider members serving in excess of 26,000 Minnesotans with disabilities.  Members are committed to respect for each individual, a person-centered approach and expanding work opportunities. More information is available at mohrmn.org, on Facebook and on Twitter.
In the photo: MOHR President Mike Burke, left, presents a Direct Support Professional Award to Lyth Hartz, president of MSS, a St. Paul-based provider of disability services with six metro locations.