MOHR PRESENTS GOVERNOR'S PROCLAMATION TO KEY SENATORS FOR DISABILITY EMPLOYMENT AWARENESS MONTH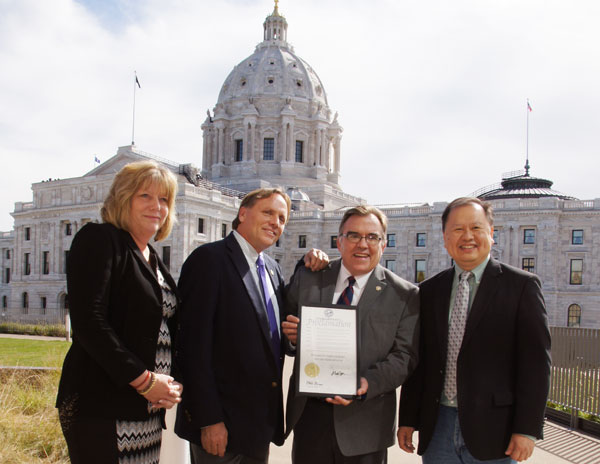 State Senators Jim Abeler and John Hoffman noted as strong advocates for people with disabilities; six Minnesota organizations to receive Outstanding Disability Employer award

Minnesota Governor Mark Dayton has proclaimed October as National Disability Employment Awareness Month and the official certificate was presented by a statewide disability organization to two key legislators, Sen. Jim Abeler (R-Anoka) and Sen. John Hoffman (D-Champlin).

The senators have been strong advocates for people with disabilities. The Minnesota Organization for Habilitation and Rehabilitation is also announcing six Outstanding Disability Employer award winners from across the state. Employers who hire individuals with disabilities and work crews are important partners in our efforts to provide person-centered services that improve people's lives in Minnesota," said Julie Johnson, president of MOHR.  The organization represents more than 100 disability service providers across the state.

"This is great.  We know that people with disabilities want to be part of the community at large in a huge manner and the Olmstead provision tells us that," said Sen. Hoffman. "We, as policymakers want to understand and make that a reality, and this is one step in the right direction.  It makes a lot of difference to be able to acknowledge this whole month and say to folks with disabilities that we want to make sure that you're working and being included in society."

Senator Abeler echoed Hoffman's comments. "This is a big deal. We get the privilege to work on this. The real heroes are the people every day who get out of bed and face their challenges or help people who are facing challenges. It's an honor to work with John and Foung on this, and with you all."

Sens. Hoffman and Abeler were joined by Sen. Foung Hawj (D-St. Paul). "Our state is productive because of the inclusion of people with disabilities. I'm glad I'm standing next to the two champions here in our Senate and I'm going to be a third.  Thank you very much for recognizing October as Disability Employment Awareness Month."

The governor's proclamation states that Minnesota is committed to providing individuals with disabilities a "continuum of work options that best meet individual needs and choices in a person-centered manner." It also states that employers are crucial to provide opportunities for work experience, career paths and the dignity that comes through labor.

Individuals with disabilities typically find it more difficult to find work opportunities, and are often assisted by nonprofit providers who help with everything from resume writing to job tryouts, job coaching, skill building and training for work.

MOHR's selections for the 2018 Outstanding Disability Employer awards are:

•    AmericInn by Wyndham – Roseau
•    Kowalski's Markets -¬ Twin Cities
•    Sammy's Pizza & Restaurant – Cloquet
•    Sir Benedict's Tavern on the Lake   Duluth
•    Taco John's – Cambridge
•    3M Fall Protection – Red Wing

MOHR's mission is advocate and support its nonprofit members in providing meaningful services to persons with disabilities and communities served.  Members are committed to respect each individual with a person-centered approach and to expanding work opportunities.

Celebrated every October, this year's theme for National Disability Employment Awareness Month is "America's Workforce: Empowering All."  It celebrates the contributions of workers with disabilities and educates about the value of a workforce inclusive of their skills and talents.  The national observance began under a different name in 1945.