2018 MOHR Life Enrichment Award recipients
There were 15 MOHR member winners for 2018:
| | | |
| --- | --- | --- |
| AccessAbility, Minneapolis | MRCI, Mankato | PossAbilities, Rochester |
| Chippewa Enterprises, Montevideo | Midwest Special Services (MSS), St. Paul | Rise, Spring Lake Park |
| CHOICE, Inc., Eden Prairie | Opportunity Partners, Minnetonka | Udac, Duluth |
| Grant County DAC, Hoffman | Partnership Resources, Inc. (PRI), St. Louis Park | WACOSA, Waite Park |
| Merrick, Inc., Vadnais Heights | Polk County DAC, Crookstron | West Central Industries, Willmar |
More about the 2018 winners:
AccessAbility, Inc.
Evening Stars
Celebrating abilities through social activities and sports training
Evening Stars provides after-hours social opportunities for individuals with disabilities to enrich their lives. Highly accommodating, safe and inclusive, it is growing more popular. Participation reached 975 people in 2017, a 20 percent increase over the previous year.  Evening Stars registered 12 bocce ball athletes to compete as individuals, and three unified doubles teams for Special Olympics competitions. AccessAbility's offering brings a great variety of activities that include pizza and movie nights, holiday dinners, sock hops, a parade, barbecues and picnics, parties, casino and bingo nights.
Chippewa Enterprises Inc.
Worksite Wellness and Community Garden
Statewide Health Improvement Partnership
A partnership that began in 2016 with a garden committee, Chippewa Enterprises' Worksite Wellness and Community Garden is fulfilling its goal to create and build relationships through healthier lifestyles. Tapping the Statewide Health Improvement Partnership, Chippewa in Montevideo is increasing healthy eating and healthy lifestyles for its staff and the individuals served. Raised planting beds were built and Montevideo High School got involved. The group faced many challenges, and learned about the best plants to grow together, germination, weather, construction and basic garden needs.
CHOICE, Inc.
SHAPE
Supporting Healthy Active People Every day
For three years running, CHOICE, Inc. in the western suburbs of Minneapolis, has utilized its innovative and original health and wellness program, SHAPE, to benefit the people it serves. Fitness and exercise, strength and balance, yoga, meditation, sensory integration and nutrition are offered to program participants. CHOICE recognized the many barriers to healthy lifestyles that people with disabilities encounter, things like cost, supervision and support, transportation, lack of control over eating choices, the need for adaptive equipment and a lack of knowledge about best health practices.
Grant County DAC
Greenhouse Project
Growing and selling produce locally
In the rural community of Hoffman, just west of Alexandria, Grant County DAC obtained a grant from the Otto Bremer Foundation in 2015 to create a tremendous community outreach and work vehicle centered on produce. Activity in the DAC's own greenhouse gives individuals with disabilities a source of pride, purpose and excitement to see plants grow from "tiny seeds into healthy food and floral products." Participants are paid for their work in planning, spot watering, weeding and harvesting. They are also able to meet and interact with greenhouse customers. The program is planning to expand, with more quality products and interactions, while at the same time keeping its size and scope manageable.
Merrick, Inc.

Ambassadors for Respect and Anti-Bullying Handbook
Minnesota Governor's Council on Developmental Disabilities
It began as an anti-bullying training for fourth-graders in 2013, and has since involved more than 16 individuals with disabilities, with 89 presentations to 2,403 students and 138 teachers in 12 elementary schools. "Ambassadors for Respect" is a Merrick, Inc. partnership with the Minnesota Governor's Council on Developmental Disabilities that teaches students about accepting differences and people first language. Participants from the Vadnais Heights-based program share their own stories about being bullied, and lead interactive activities to promote acceptance. Students learn about self-advocacy, person-centered planning, self-determination and how they and people with disabilities can become leaders. Ambassadors is now going statewide, with the publication of a handbook for school districts to promote the program across Minnesota.
MRCI and The Arc Southwest
Innovators
Enriching Lives through Theater

From its headquarters in Mankato, MRCI provides performing arts opportunities for people with disabilities as part of a partnership with The Arc Southwest. The Innovators theater group involves 15 to 20 individuals with disabilities, who choose a play and their roles, and work on rehearsals with assistance from an MRCI volunteer. These discover previously untapped talents, learn teamwork and how to take direction while gaining confidence to perform in front of others. Shows are performed at MRCI facilities. "Our goal is to empower our clients to be able to advocate for themselves and others," explained an MRCI spokesperson.
MSS

The CoLab Exhibition
The Show Gallery Lowertown (Arts)
Midwest Special Services (MSS) is a founding partner in The Show Gallery Lowertown, a nonprofit art space that "seeks to create accessibility in the arts and unite artists of all abilities." MSS coordinates an annual exhibition, CoLab. The event highlights the work of artists with disabilities who are paired with professional artists. These work together to create collaborative art pieces. The art takes on many forms, from visual arts to poetry, photography, videography and Flamenco dance. CoLab grew from 12 artist pairs in 2015, to 15 in 2016 and 22 in 2017. The event attracts more than 300 visitors for the opening reception and even more over the length of the exhibition. Overall, it has increased awareness and advocacy for people with disabilities.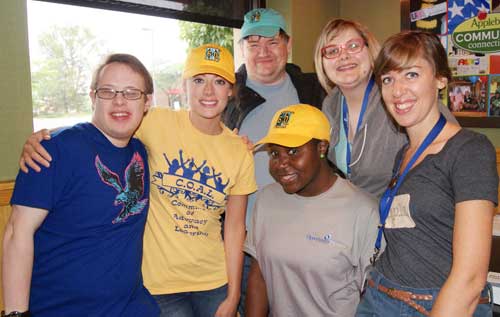 Opportunity Partners
Committee of Advocacy & Leadership (COAL)
Participant-led efforts to change public policy
Creating a forum for people with disabilities to stand up for themselves and to be heard, Opportunity Partners kicked off the Committee of Advocacy & Leadership (COAL) in 2011. The purpose is to "ignite" in everyone the power of advocacy. COAL involves more than 50 members with disabilities across several Opportunity Partners campuses and programs. Participant-led and assisted by staff who are passionate about public policy, COAL was a player in the statewide effort to obtain a 5 percent increase in funding from the Minnesota Legislature. "People with disabilities need to learn and practice advocacy in order to build self-directed lives, but as historically disenfranchised members of society, it's especially important that they get involved in the legislative process and have their voices heard."
Partnership Resources, Inc. (PRI)

Arts Program
Offering meaningful arts opportunities to individuals of all abilities
The brainchild of Partnership Resources CEO Norm Munk, PRI's longstanding arts program "breeds opportunity, fosters success and fulfills dreams never imagined." It formally began in 2001, with a grant and a new arts instructor, and became the PARTnerships visual arts program in 2003. Individuals with disabilities trained with professional artists to produce prints, calendars and cards. Greeting card sales peaked at more than 100,000, with more than $250,000 in sales. There are Studio Arts classes with professional teaching artists. Funded by grants and donations, these create experiences for people with disabilities in the visual arts, music therapy, glass-making, clay and ceramics, the performing arts and more. Minneapolis-based PRI has built more than a dozen partnerships to benefit the people it serves, and has been a pioneer in the art field for people with disabilities.
Polk County DAC
Multi-Sensory Environment
Relaxation and stimulation therapy room
Taking a cue from therapies that are used in Holland and Denmark, Polk County DAC created a multi-sensory environment within its facility to relax or stimulate its participants based on a "sensory diet." The detailed and equipment-rich room helps people to increase their attention span, keep their heads up and smile, sleep longer, eat faster and improve their muscle tone. The DAC secured grants from the Otto Bremer Foundation and Hidden Angel Foundation for the new Crookston sensory room. Earlier, the nonprofit used one successfully at its East Grand Forks location. The room has helped improve functionality for a man with cerebral palsy and one person with autism was able to increase his sleeping hours at night. People who have used the sensory room have increased their attention spans, become more attentive and less agitated. Greater independence and happiness have also resulted.
PossAbilities

STARS
Striving Toward Achievement, Recognizing Strengths
In need of a community-based program to combine employment services and adult enrichment activities, PossAbilities in Rochester created Striving Toward Achievement, Recognizing Strengths (STARS). This led to more than 250 hours of volunteer service. Increased time in the community has opened people up to new experiences and adventures. "We saw immediate growth and improvement in several participants' communication and social skills, and a dramatic increase in the time they spend in the community." Participants made meals, shoveled out hydrants, rang bells for the Salvation Army, caroled around town and handed out goodie bags to kids at a medical center. On average, STARS participants spend more than 900 hours in the community each month.
Rise
Art Speaks

Finding one's voice through art
Participants at Rise tell their stories and express their vision through works of art. In a collaborative environment, meaningful growth is fostered as people express their artistic vision and tell their stories. More than 200 individuals take classes, between the Hennepin and Anoka County Rise locations. Art can be abstract, as participants use microfiber dusters, rolling pins, yarn and foam pieces. "Artists who choose to participate in Rise's Art Speaks program do so as a means of embracing what they can do, in a world focused on what they can't." Planners say that people are routinely struck by the beauty, depth and professionalism of the work produced by people in the program. The creations are on display at more than a handful of public venues, including government buildings, coffee houses and within corporate offices.
Udac
Fourth Street Garden
A partnership with Essentia Health and the Duluth Community Garden Program
Creating a community garden in a disadvantaged neighborhood together with two partners, Udac made green space to grow produce for donations to a food shelf in Duluth. Participants with disabilities helped make the garden beds and moved walkways to create wheelchair access. They also planted and watered vegetables and reaped the harvest. In its second year, Udac was planting seedlings in house and earlier planting was expected to produce a bigger crop. Gardening experts were brought in to teach best practices and discussions were held about healthy eating, as well as the importance of supporting area farmers. The nonprofit hopes to broaden its reach by involving area food coops with educational events in the garden space. And, Essentia Health, one of the partners, is exploring options for oncology patients to utilize the space for fresh air and meditation to renew their strength.
WACOSA

Art Program
A creative outlet for a broad spectrum of inventive pursuits
WACOSA, which is near St. Cloud, has a goal of providing experiences that help people with disabilities to discover the full measure of what makes life fulfilling and beautiful. Art opportunities offer one outlet to achieve that end. Learning from an art therapist, multiple artists and other professionals, WACOSA participants gain knowledge and experience in a number of art mediums, from watercolors and painting to drawing, ceramics, photography and music. This has led some participants to join regular community arts classes. Art shows to display and sell their works are also held.
West Central Industries
Music and Art Program
Curriculum, choir and studio
In Willmar, dreams are becoming reality, thanks to West Central Industries (WCI) and its work with people with disabilities. Using a new WCI studio for individuals to express themselves musically, participants learn the fundamentals of percussion, acoustic and bass guitar, ukulele, piano and vocal performance. For painting, canvas applications are the method of choice and winter landscapes a favorite. The nonprofit coordinated its own 16-member choir, which trained for months and has performed more than a handful of times. Long term care facilities and a hospital have become favorite venues. The events have had the added effect of opening up new volunteer opportunities, as well.