2018 Direct Support Professional Award winners and 'Tip of the Spear' award recipient
The 2018 Direct Support Professionals Awards highlighted those who demonstrate exceptional performance in serving individuals with disabilities.  Also selected was a "Tip of the Spear" award for an individual who inspires others to take action benefiting people with disabilities.  The winners are:
More about the 2018 honorees:
Sheri Murphy created the PRIME TIME program at TSE, which gives participants the opportunity to see a number of job options through tours at a variety of industries. Employment exploration runs six weeks, is paired with curriculum to assist with soft skills, and is followed by a 40-hour paid internship in the person's industry of choice. Sheri takes great pride in the program and helps to ease people's anxiety as they interact with each other and with employees at different businesses. Employment rates for program grads have been strong, above 90 percent.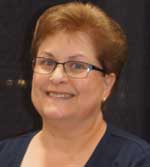 At Opportunity Partners, Kara Kowski is a "positive, encouraging and wonderful advocate" for the people she serves. She has built successful working relationships with the job development team, community employers and referral sources. Representing Opportunity Partners with dignity and professionalism, Kowski educates others about support services. She prepares people for employment by helping them to fully understand job expectations and assures that employers are tapping the full potential of the individuals she supports. "Overall, Kara shows motivation and expertise in many areas . . . she often goes above and beyond, not only for her caseload, but also for the employers she supports."
In the outstate area, there may not be another to match the 37 years of experience held by Renae Kappes with Norman County Developmental Activities Center in Ada. "Not only does Renae excel at all of her normal day-to-day operations, she is always stepping up and stepping in, in ways that are not required, in hopes that she will make someone's life better," explains her executive director. Kappes continually provides coaching and feedback to those supported by the DAC, in hopes that they will be able to be more healthy, happy, safe and independent. The nomination form for Kappes was accompanied by several short letters from participants, who shared about her caring, kindness and skills as a job coach.
Kim Seehusen with Ally People Solutions in the metro area, has served as a role model for her colleagues by consistently implementing best practices in the areas of self-advocacy, community integration, sensory integration and entrepreneurship. She "makes it happen" and includes all the individuals she supports in planning activities, assuring that each is able to participate to the best of his or her abilities. Seehusen uses photographs to help people to remember the friendships they've made, and works with individuals to create albums. These can assist in the grieving process after someone passes away, or when someone leaves the program due to extreme health issues.
At Mille Lacs County DAC, Rita Cassens has served others for 21 years with a person-centered approach. Working as a substitute in the production, life skills and community skills areas, she also serves as a job coach at enclave work sites. Her energetic attitude has been described as magnetic. That translates to getting people excited about doing a job they may not prefer, inspiring others and bringing a sense of humor. Cassens' ability to treat everyone with respect and dignity is coupled with knowledge about the people she serves, their preferences and desires. "Rita and our persons served always come back from a job with a smile."
Tip of the Spear winner Lyth Hartz has spent a lifetime, 48 years, supporting and advocating for individuals with disabilities, primarily at MSS, where he serves as president. "He has helped to create a community that fosters a person-centered culture, and has taught MSS staff to see the limitless possibilities in everyone." He was at the forefront of the movement to transition people from the state institutions into community-based programs. Hartz has been an unwavering supporter of arts programs at MSS, which is known for The Show Gallery Lowertown art gallery. "What truly sets Lyth apart and what has helped fuel his success for nearly a half-century is his demeanor and personality.  Lyth is passionate about the work he does, and the career he has built."
---