Father says system needs fixing to fill son's needs for day services
The story isn't uncommon. COVID-19 dramatically cut access to Minnesota disability day support programs, many staff have not returned, and a hiring crisis has ensued as wages are not enough to attract new talent.
This is leaving people with few opportunities to connect with friends, community, and other essential day-to-day activities that make for a rich life. The impact for Caleb George-Guidry, 30, from Brooklyn Park, who lives with multiple disabilities, is a clear illustration of the unmet need.

"It's tough with all he's been through," said his father, Matt Guidry. Caleb attended MSS, a day support provider for people with disabilities, for nine years before the pandemic hit. He had an active day filled with friends and community, which gave him a higher quality of life.
"It's tough with all he's been through," said his father, Matt Guidry. Caleb attended MSS in the same city for nine years before the pandemic hit. He had much recreation and leisure, which gave him a higher quality of life, he said.
MSS foundational to Caleb's well-being
There were many activities, small group gathering spaces, and a larger common area. Caleb enjoyed the variety and would wander from room to room, checking in on everybody, his father said.
He especially enjoyed the energy of events happening in MSS's community room and connected well with resident artists working on projects. MSS has one of the top art programs in the state for people with disabilities.
"He misses all that energy," said Guidry. Virtual classes are not of interest to Caleb, although they can work well for other people. MSS was Caleb's community. The family doesn't know when it will return.
Hoping others can see need for community, Olmsted Plan requires it
MSS currently serves 25 of the 63 people who were receiving services pre-pandemic at the Brooklyn Park site where Caleb attended. Without the additional staff needed, it will be challenging for MSS to reunite with everyone waiting to return.
"We all want and need something besides our own family, our own household, "Guidry said. "With this small insular circle we had all existed in for two years, it's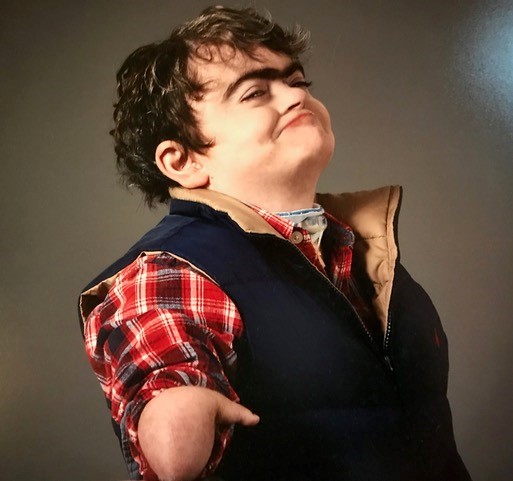 almost like, we all know the feeling now, right?"
In March, Guidry mentioned key elements from Minnesota's Olmsted Plan when he testified about the family's situation before the House Human Services Finance and Policy Committee.
"The state of Minnesota should be ensuring that people with disabilities can live, work, learn and enjoy life alongside everyone else in the community," said Guidry. "These goals have been ripped out from underneath the fabric of Caleb's life and many others in our disability community on so many levels."
The Legislature sets reimbursement rates, which limits the ability of nonprofits like MSS to raise wages.
Compromise to make things work
Instability caused by staff shortages may not be readily understood by some people with disabilities, but the effects are. Caleb's residential provider was forced to close after 12 years and only recently reopened, partly because the Guidry's were willing to take Caleb for 12-hour stints on weekends. The reason? Not enough staff.
And from Caleb's perspective, I'm sure the move came suddenly without warning, and with no apparent cause, Guidry said to the House committee. "I just want you to imagine how scary that would be. At the heart of this issue is the egregiously low pay of direct support professionals or DSPs who provide every intimate care in Caleb's life as they do for so many others." Caleb has high respiratory needs, and his father said it's still risky to take him out in public.
Obvious benefits of socialization
In the few times recently when Caleb has been around his father's friends, who he has known for years, his whole demeanor shifted instantaneously, much like any person's after being apart. His face brightened, his energy moved up, and he became animated.
Guidry co-founded Upstream Arts in Minneapolis with his wife, Julie, who serves as its executive director. Among its goals is teaching social-emotional learning to people with disabilities. He said the individuals they work with need to be "community-ready," but the community needs to meet them halfway.
The father also speaks of the Americans with Disabilities Act, passed a year before his son was born, realizing that disability rights are relatively new. "It is definitely better than it was 30 years ago when Caleb was born, but the needle hasn't moved that far."
Guidry is advocating for House File 3100, which would require the system day service providers are reimbursed through to be updated more frequently with market data, so wages paid to workers are more competitive.
Learn more about how you help advocate for families like the Guidrys, and make a difference.
Read Matt and Julie Guidry's 2020 blog post - "In Small Moments: Changing one thing."
Photos courtesy of the Guidry family, MSS and Upstream Arts