2019 MOHR Life Enrichment Awards
"My life, my choices" is the theme of the Second Annual MOHR Life Enrichment Awards.

Life Enrichment Awards are non-vocational, and may involve programs and activities that:

•    bring about inclusion
•    build confidence
•    enhance skills
•    center on people
•    partner with community
•    fuel self-advocacy
•    promote the arts
•    drive health/fitness

Each year, MOHR members are encouraged to nominate their own programs, as are individuals with disabilities, their families and partnering groups.
Let's celebrate the 2019 honorees:
2019 MOHR Life Enrichment Award recipients
There are five MOHR member winners for 2019:
| | | |
| --- | --- | --- |
| Functional Industries, Buffalo | Opportunity Partners- Asplin Center, Plymouth | ProAct, Eagan |
| Rise, Spring Lake Park | WACOSA, Waite Park |   |
More about the 2019 winners:
Functional Industries
Self-advocacy education

In partnership with Self-Advocates of Minnesota, to enhance leadership, self-transformation

The Functional Industries program is designed to build personal power for people with disabilities, connect them with disability rights laws and history and build community, explains Lisa Parteh, vice president of client services. Bev Kaler, the regional SAM organizer for Self-Advocates of Minnesota, trained one staff member and two participants with disabilities to serve as trainers. A grant provided funds for a second and third round of classes and people with severe and persistent mental illness were also prepped for the training. Functional Industries is seeking new venues and partners to expand the self-advocacy training using a "train the trainer" approach. The ultimate result is greater empowerment for youth and adults with disabilities.
Opportunity Partners - Asplin Center
Art program for personal growth, increased confidence and engagement

"People who thought they weren't good at art, or perhaps were afraid to try it, have turned into artists," said Julie Peters, communications director for Opportunity Partners. Asplin Center has had art instruction for years, but a new revival took place in 2016, after a remodeling drove the need for a more professional and inviting look on the inside walls, she explains. Asplin Center artists have also taken their work offsite for display at a local library and at community art shows. Their designs appear at other Opportunity Partners locations, as well, and the nonprofit prints art reproductions on notecards to distribute. An individual named Faith was very resistant to drawing. With coaching and practice, her skills improved, Peters explains. One of Faith's drawings was featured on the Disability Services Day at the Capitol buttons worn by hundreds at the annual event in St. Paul.
ProAct, Inc.

ProAct Playhouse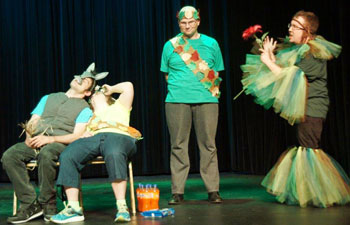 Enhancing self-esteem, communication skills and professional presence through theatre arts

ProAct Playhouse began as a mix of physical, verbal and memory-based activities to build self-esteem and has expanded to full public performances before larger audiences that tackle controversial topics. Another important aspect is the "person-centered" approach of the program, said Co-director Matt Briggs. Participants with disabilities have a say in their roles, the stories and how best to tell them. "Our goal is to enhance self-esteem, build communication skills and professional presence," he said. The group started in 2006 as a classroom tool to help ProAct participants with disabilities to find their identity and voice through fine arts.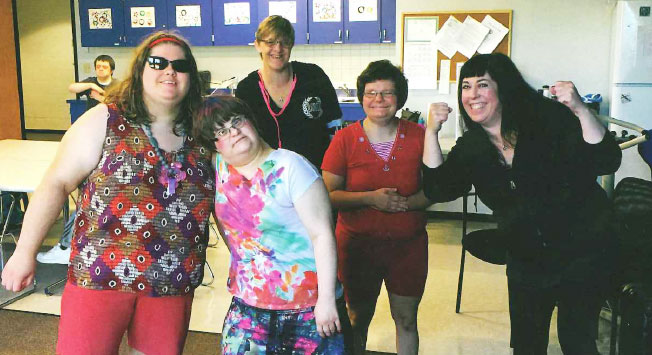 Rise
Adult Day Program
Enhanced Services through community center and YMCA partnerships

Operating five Adult Day Programs in connection with the area YMCA and several community centers, Rise has many active participants in the community. "Every day we can see the benefits of Adult Day programming for the people we serve from enhanced socialization opportunities, increased physical activities, additional cognitive development from group discussions and learning activities, as well as the one-on-one caring attention they receive from Rise team members," said Judy Anderson, director of Adult Day Programs. The holistic, customized approach to service delivery assists people in increasing their personal growth, independence, and physical, emotional, and mental wellness.
WACOSA

St. Cloud Kiwanis Aktion Club
Character-building, Leadership, Inclusiveness and Caring to serve the community

The mission of the Aktion Club of St. Cloud is to provide adults with disabilities an opportunity to develop initiative, leadership skills and to serve their communities. Kiwanis of St. Cloud chose to partner with WACOSA and its fund development manager, Carrie Peterson, who serves as chair for the group. "Her energy and enthusiasm are truly what make this an excellent program." Together, WACOSA and the Kiwanis Club of St. Cloud chartered the Aktion club because of WACOSA's longevity and history.