Role model for colleagues honored with DSP Award
Ally People Solutions' Kim Seehusen honored for "Enrichment Focus" category in metro area by Minnesota Organization for Habilitation and Rehabilitation (MOHR)
Direct training specialist Kim Seehusen with Ally People Solutions (now Community Involvement Programs) was named for a Direct Support Professional (DSP) Award by the Minnesota Organization for Habilitation and Rehabilitation (MOHR).  The honor for "Enrichment Focus" recognizes individuals for exemplary work, skills, impact and the "creation and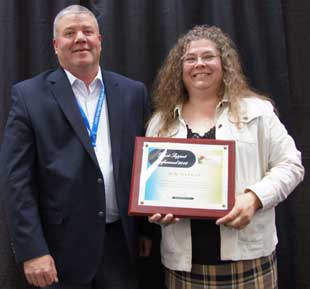 implementation of innovative and proactive services."
Seehusen serves as a role model for her colleagues through best practices in self-advocacy, community and sensory integration and entrepreneurship, explains Jerry Le Vasseur, manager of personal employment for Ally. She uses photographs to strengthen relationships and memories for the people with disabilities she serves, Le Vasseur said. The manager said her mantra is, "How can we make this happen?"
Growing up around people with disabilities, Seehusen said she's made them a part of her life and considers these individuals like family. "I feel like I get more out of it, sometimes, maybe even than they do." For some individuals, the staff members providing services may be the closest thing to "family" a person has, she explains.
'It's not just a job, it's a lifestyle," said Seehusen, who thanked her employer for the opportunity.  Ally, she said, is a place where staff can be themselves and people are allowed to build on their own strengths. The award winner also uses American Sign Language, and said her career has been a "natural progression" of sorts.
The award was presented at the MOHR Summer Conference in St. Cloud. MOHR services more than 100 adult day, day training and habilitation, extended employment, and supported employment service providers across the state.
MOHR members serve more than 26,000 Minnesotans with disabilities. Members are committed to respect for each individual, a person-centered approach and expanding work opportunities. More information is available at mohrmn.org, on Facebook and on Twitter.