Grocer in Fergus finds job match in man with autism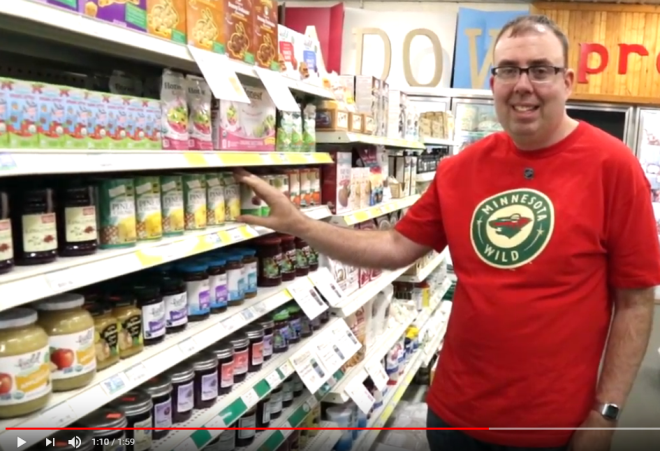 Extended Employment services help people with disabilities all over Minnesota to find and keep fulfilling jobs like Mark Hintgen's position at Meadow Farm Foods in Fergus Falls. He's supported by Productive Alternatives.
"When it comes to Productive Alternatives, we get consistent employment, and we get friendly employment," said Sander Habraken, owner of Meadow Farm foods.
Hintgen is on the autism spectrum. Job coach Samantha Gervais helps him to water flowers, weigh and bag bulk products and check dates on items.
Enjoyable work, with some help
"My favorite thing is scooping bulk in the bags and sealing the bags," said Hintgen. Gervais is there to ensure he is safe, to give work cues and suggest ways he can be more efficient.
She said she can tell that he's having a great time on the job, and catches him smiling throughout his shift.
Productive Alternatives Director of Development, Tammy Anderson, said work is often so much more than a paycheck. The nonprofit has spent decades forging partnerships with people who share this belief.
"Work offers the gift of pride, dignity, friendships, respect, self-sufficiency and being a contributing member of their communities," she said.
Productive Alternatives made connection
Hintgen has held this job for two years, and has previous experience in assembly and custodial roles. His parents, Tom and Sharon, said their son is a productive member of the community and is able to give back. Before learning about Productive Alternatives, and the Olmstead plan, they had a more limited vision for Mark's future.
Their son said it's an excellent place to work. The store owner is also appreciative.
"Mark is a real pleasure to work with and he does an impeccable job," said Habraken. "He's precise, he's accurate and he's always happy to be here. It's pretty much an ideal situation."