Meet others in the field and grow professionally at MOHR's Spring Conference in St. Cloud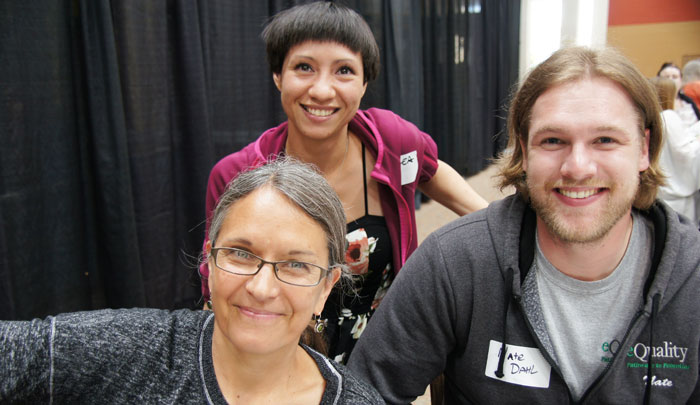 There's lots to learn and much fun and fanfare planned for the MOHR Spring Conference, May 16 and 17 in St. Cloud.
Communication strategies for persons with Alzheimer's and Dementia

Using social media to enhance your business

How to fill out an application for service intensity adjustment

Person Centered Planning (Star Services)

Autism Training

Avoiding Power Struggles
Our featured speakers include representatives from Star Services, Minnesota Nonprofits, MAPS and more.
The event at the Holiday Inn & Suites runs from 9 a.m. to 4 p.m. on May 16 and 8 a.m. to 12 p.m. on May 17. Cost is $150.
---
---
Abbreviated conference schedule
May 16 & 17, 2019
Holiday Inn & Suites, St. Cloud

Thursday, May 16

7:30 – 8:50 Breakfast in pool area 8:15 Registration
For your convenience, Cashe' software company will have a booth during our workshop. Stop in and find out what they have to offer your facility.

9:00 – 11:15 Person Centered Progress - Mark Winters, STAR Services
Too often a person's goals, choices, and plans are abandoned; sometimes, as soon as the team leaves the meeting.


9:00 – 11:15 Service Intensity Application - Dede Hauck, Merrick
Since banding began in 2014, Dede has gathered a great deal of information about average staff to client ratios, upward banding, tools and processes to get service intensity changes and rate exceptions so she can continue to provide services to her clients with very high needs.

9:00 – 11:15 Beyond Hand-Washing and Germ Phobias: The Many Facets of Obsessive-Compulsive Disorder (OCD) and How to Address Them – Alison Dotson, OCD Twin Cities
Awareness of Obsessive Compulsive Disorder (OCD) has been growing steadily over the past decade, but we still have a long way to go.
 
9:00 – 11:15 Communication Strategies for Alzheimer's and Dementia - Kate Selseth
11:30 – 1:15 Lunch –The Last Band, provided by artists from CHOICE Unlimited of Duluth, Minnesota.
The music performance will be followed by the DSP Awards Presentation.

1:30 – 4:00 Mapping things out: Exploring Person- Centered Planning Methods- Mark Winters, STAR Services: Your services are person-centered but does it need to go one step further?

1:30 – 4:00 Serving Others - Ted Schick, Schick Corporate Learning
In this fun and informative presentation, we discuss the work we do as we serve others--- from what motivates us to serving on our teams to taking care of ourselves.

1:30 – 4:00 Take a Walk Around the Thinking Block - Wanda Grew – Jasken, EDGE Consulting, LLC.
For Individuals and teams, decision making can take a lot of time, thought, and effort. In this fast-paced, production-focused, multi-tasked world, we do many things habitually.


1:30 – 4:00 Social Media Enhances Business - Sarah Crumrine, Minnesota Council of Nonprofits
"Do you want to get into social media for your organization but not sure where to start? Still confused by what exactly a hashtag is? Join us for this session all about social media.

GOLF Following the last session on Thursday, May 16, there will be a golf outing at Angushire Golf Club. Green fees will be on your own and paid at the course. Please sign up at the registration table. Contact Mike Burke with any questions.

Dinner on your own.

7:00 – 10:00 Hospitality Room. Sponsored by Praba from Cashe' Software. It will be near the volleyball courts.

Friday, May 17

6:45 – 7:50 Breakfast in pool area

8:00 – 10:20 Employee Onboarding: An Investment in Retention – facilitated by Wanda Grew-Jasken, EDGE Consulting, LLC.

Employee Onboarding is a critical component of hiring. Bringing new employees on board is a major expense. Employee turnover increases that expense.

8:00 – 10:20 Understanding Autism and Effective Support Strategies - Eric Ringgenberg, Autism Association of Minnesota
Learn common characteristics and challenges associated with autism spectrum disorder (ASD) and review universal support strategies.

8:00 – 10:20 Developing Employment Services and Capacity - Dan Rietz/MOHR and APSE

10:30 – 11:45 Key Note Speaker – Joy through the Journey - Brenda Elsagher
In this fun presentation, Brenda Elsagher, National Speaker, Author, and Comedian will help us see how we are surrounded by humor
 
11:45 – 11:50 Closing Comments – Julie Johnson / Jo Bittner