2018 MOHR Outstanding Disability Employer Awards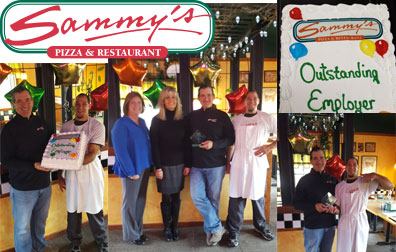 To recognize the important role that organizations play in employing people with disabilities, the Minnesota Organization for Habilitation and Rehabilitation (MOHR) has selected recipients for the Second Annual Outstanding Disability Employer Awards.
Here are the 2018 winners, and the MOHR members which assist them with employment related services:
AmericInn by Wyndham - Roseau
Member: Occupational Development Center, Inc. (ODC) - Roseau Division
AmericInn General Manager Darrin Smedsmo said ODC has worked hard to choose the best individuals for the jobs that need to be done, people who will do it well.
"The most rewarding part is to see these individuals excel and feel good about the job they have out in the community," said Smedsmo. "I believe that by employing people with disabilities, we have all learned to appreciate those with disabilities more."
ODC Roseau Division Manager Roger Allen said the hotel serves as an example of how an employer should be with individuals with disabilities, one that consistently exceeds expectations. AmericInn is the first employer ODC goes to when promoting employment for the people it serves. "He (Darrin) is that much of an advocate for them and a friend," said Allen.  "It is refreshing to see an employer put into action what he believes and to value the individuals we work with and serve daily."
Calm and communicating on a personal level, Smedsmo treats his employees with warmth and respect across the board, said Allen. "He is not afraid to joke with them and show them that he cares.  He pays them directly and at higher than minimum wage, without hesitation," he said.
AmericInn is hosting an award presentation on Tuesday, October 30 at 10:30 a.m. The address is 1110 3rd Street Northwest.
Kowalski's Markets - Twin Cities
Merrick, Inc.
Family-owned Kowalski's Markets was one of the first grocers in the state of Minnesota to recognize the value added to their business when employing people with disabilities, said Karen Herrera, development and communications director for Merrick.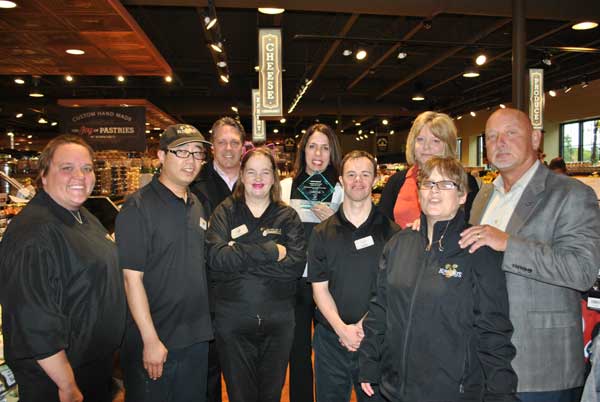 The relationship began in 2000, with a Merrick crew at Kowalski's Woodbury store, and today the grocer employs 28 people with disabilities across six of its sites. Some are independent hires and others are on work crews.
One parent of an adult man with disabilities, Jim Clapper, wrote to Merrick to share his family's appreciation for the opportunity Kowalski's gave to their son. Bob Clapper is on a mobile crew at the Kowalski's Grand Avenue store in St. Paul. Living in a group home with two other individuals with disabilities, Bob's roommates also work for Kowalski's, at the Shoreview and Woodbury stores, respectively.
Herrera said Kowalski's employees are willing to "go to bat" for Merrick participants to make sure they understand expectations. Merrick crewmembers and independent hires are greeted by name, and are involved in company picnics and other events.
"The company has always had full confidence in the clients' abilities and has never viewed their disabilities as a limit," said Herrera. Kowalski's has also advocated for Merrick's success in the surrounding communities, as well.
Read the story in Sun Thisweek newspapers
Sammy's Pizza & Restaurant- Cloquet
Pinewood Inc.
Sammy's has hired 10 employees from Pinewood, a disability service provider in the same community. Individuals wash dishes, bus tables and perform other kitchen
duties.
"We cannot say enough about this generous, thoughtful, caring business owner in our community," said Danae Lambert, employment services manager at Pinewood. "We are so grateful for not only the work that he provides for our individuals, but also for the genuine care and guidance he gives to each and every one of them."
Sammy's Pizza Owner Mike Acheson found Pinewood after opening the Cloquet restaurant in 2000. He learned from a friend in the business that the nonprofit could provide dishwashers. What began as an effort to cover 14 dishwasher shifts a week turned into something far more rewarding, Acheson said. "They have become a part of this place, and a huge part of my life."
Lambert said communication with Pinewood has been a strength with Sammy's Pizza. Individuals from the nonprofit each have a support team to respond to such requests. "He (Acheson) asks for guidance and information from Pinewood if there is something in question," said Lambert, who explained that the end goal is for people to be successful in the workplace.
"It's not even a give and take relationship. It's a give and give relationship," said Acheson. The owner said his employees from Pinewood want nothing more than to please him and the coworkers around them. "It's the joy they bring. They show up for work and know what their job is," he said.
News mentions: QSR Magazine | Pine Journal
Sir Benedict's Tavern on the Lake - Duluth
Udac, Inc.
An individual from Udac performs janitorial work at Sir Ben's Tavern on the Lake, which is on Lake Superior. He previously served on a crew here with one other
individual and a job coach from Udac.
"Sir Ben's Owner Josh Stotts displays compassionate understanding when working directly with his staff, said John McLoughlin, employment services manager for Udac, Inc., a nonprofit serving people with disabilities in the Duluth area. "He patiently listens to their concerns, professionally explains work expectations and makes accommodations if needed."
Stotts said the individuals with disabilities he has hired are very loyal and are fun to work with. "When you have employees and you work with people, you hope that you're doing right by them," said Stotts. "We want to be a place where they can work for a while, make some money, pay their bills and do what they do."
The owner worked closely with Udac's Supported Employment Services department and provided hands-on training to ensure the employee's success. Stotts said when people do a great job, he lets them know, and if improvements are needed, he lets them know that, as well. "If there's an ability to become independent, hopefully we can play a part," said Stotts.
Taco John's - Cambridge
Industries, Inc., a division of PHASE
Taco John's in Cambridge has partnered with Industries for four years, both in hiring people with disabilities and in serving as a popular 10-day work assessment site, explains Industries Employment Services Manager Mary Barnes. Assessments give people the opportunity for job tryouts to help determine the type of work they're interested in.  "Taco John's focuses on the individual's strengths, not their disability," said Barnes.
"Throughout my life, I have seen people with disabilities working in the community and being successful," said Taco John's General Manager Tanya Wallace. The restaurant has hired four individuals with disabilities in the past four years, and two have been with the establishment for that entire time. Wallace said their roles are very important, providing the "face of the lobby." Individuals from Industries stock the food and drink stations, clean and perform behind the scenes tasks.
Barnes said Wallace takes the restaurant's support a step further by attending her employees' annual "team meetings," with Industries. Wallace provides updates on work progress and suggestions to help each individual to better succeed on the job.
Industries gives support to new hires and work assessments to make sure the individuals can complete tasks on their own and in a timely manner, Wallace explains. They are also on call to help when needed.
"Tanya brings so much compassion and patience to work with her each day, which drives that restaurant to be such a great place for the individuals we serve to work and thrive," said Barnes.
WCCO 4 TV | Isanti County News - Taco John's celebrates Outstanding Disability Employer Award | QSR Magazine | KBEK Radio | Isanti Chisago County Star
3M Fall Protection - Red Wing
ProAct, Inc.
"The 3M Fall Protection staff works with ProAct job coaches to bring out the highest potential in each person," said Joyann Johnson, a designated coordinator for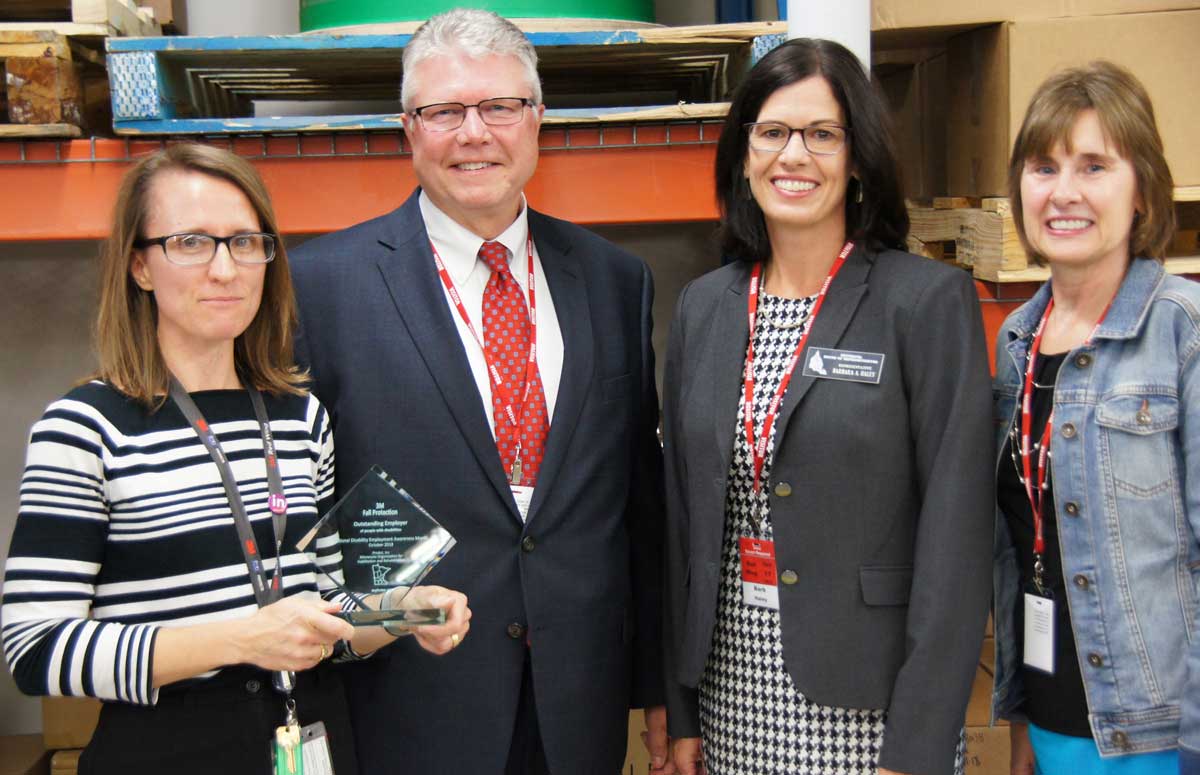 ProAct in Red Wing. A sizable work crew assembles parts for numerous types of safety equipment used by linemen, bridge builders and other professionals.
3M Focus Factory Leader Dustin Rassier said ProAct keeps up well with 3M work needs, including big projects. Job coaches can bring more people on work crews depending on specific needs for the day. The flexibility works well, said Rassier, as about 40 percent of what the facility ships each day has been ordered within the last 24 hours. 
"We are sending out product that ultimately has somebody's life in the balance, so we depend on quality products going out the door," said Rassier. "They fit right in with our culture." 3M Fall Protection manufactures DBI-SALA® products.
"The higher management at 3M make a point of giving direct positive feedback on a regular basis," said Johnson. 3M Fall Protection and ProAct have had a business relationship for more than 20 years, through multiple owners. A typical ProAct crew at 3M involves three or four job coaches and 14 or more individuals with disabilities.
Johnson said there are expectations to complete orders on time and with excellent quality. The business also continues to expand ProAct's involvement by adding more jobs to the crew's list of responsibilities, she explained.
"From a community standpoint, it's great to be able to give people with disabilities a chance to gain employment . . . to give them more purpose in life," Rassier said.
Red Wing Republican Eagle (pdf)
The MOHR Outstanding Disability Employer awards coincide with National Disability Employment Awareness Month in October, a tradition that dates back to a Congressional proclamation in 1945. Minnesota Governor Mark Dayton issued a proclamation in support of the national designation.