Small town gem; ADS program tucked in metro is inclusion dream realized
Self-described as a quaint downtown, with a six-block main street and a mere 12,000 residents, North St. Paul has what some would consider a community treasure—an Adult Day Services (ADS) program serving people with intellectual or developmental disabilities (I/DD).

"Their joy is so real and it rubs off on everybody," said Service Lead Therese Timbers with Merrick, Inc. "I think that's what makes our job so magical."

Located in what was previously a downtown bowling alley, the Merrick satellite site in the Franklyn Center serves 38 clients with a staff of eight. It's within walking distance of many community resources, which opens doors for ongoing relationships and regular visits.

There are barbershop conversations between clients, staff, and community members, Timbers explains. People ask about the ADS program and learn more. At the library, staff members have books ready for visitors from ADS, know their interests, and even cater to them.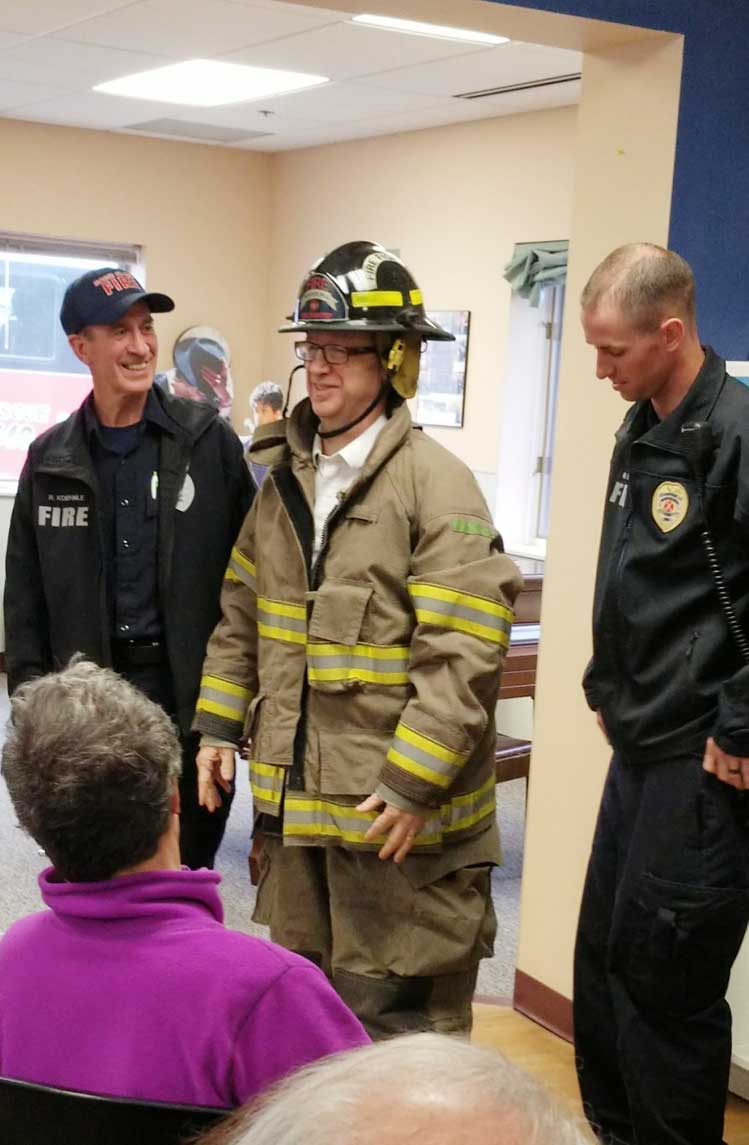 Accommodating, person-centered, many options
One client with Alzheimer's always wanted to be a firefighter, so fire personnel at the downtown station give him a job application when he comes in, Timbers explains. He tries on firefighter suits and visits with those who battle the blazes. "It makes him feel a part of that thing that he's always wanted to have," said Timbers. "They're taking time out of their day to get to know him."

Back at the Merrick site, classes and activities fill the day. A 27-year-old client works a loom or crochets, skills she learned from an 82-year-old peer. In another room, a music therapist leads a group of clients in a round of "You Are My Sunshine," while another group plans a Prince tribute party. The fun never stops at ADS.

"That's the fun part of it. Everybody kind of integrates," said Center Director Ermelinda "Nana" Zamora. While the age range can span more than 60 years, people tend to blend and have fun together, she explains.

Monthly all-site meetings gather input from clients about things they want to do. There are two community outings each day. Some of the popular summer activities are fishing or pontoon boat rides, sightseeing in Stillwater or Hudson, Wis., visits to antique shops and garage sales, and much more. No work occurs at the site, as all the clients have chosen Merrick for life enrichment activities.

In the North St. Paul Fall Round-up Parade on September 19, clients and staff will walk or ride, greeting the crowds along 7th Avenue with Merrick Executive Director John Wayne Barker, who always makes it a priority for community involvement.
Merrick legend's vision: community inclusion
Merrick's ADS program found its home in North St. Paul in 2012, and was the fulfillment of a vision for community inclusion by the late Colleen Timbers. A longtime staff member, Timbers is revered at Merrick for her devotion to, and encouragement of self-advocacy by all people with disabilities.

ADS at Merrick specializes in supporting people with self-care and fosters socialization skills in a person-centered atmosphere. Each client has an Individual Care Plan that indicates a need for non-vocational support services. Among the community-inclusive life enrichment activities are visits to the sculpture garden and YMCA, music therapy, animal assisted activities and horticulture activities in Merrick's greenhouse.

"The program is highly desired, and now has a waiting list for enrollment," explains Zamora. "There are times when it's hard to get clients to leave at the end of the day, and many don't want to stay home on snow days."

The director said the ADS group is like a second family to many of the clients. "People get together outside of the program day for dinner, movies and even a trip to Mall of America."

Without any stakeholder input, Barker said the Minnesota Department of Human Services (DHS) influenced legislation passed this year to create a new ADS rate framework. This is likely to result in a cut of 12 percent, effective on January 1, 2021. DHS also wanted to limit eligibility to those 55 and older, which did not pass. The executive director said the department plans to reintroduce this arbitrary requirement in the 2020 session.

Barker said he is concerned because Merrick's "unique, inclusive, and highly valued program" cannot be sustained with a 12 percent rate cut. And, the age limit would exclude many clients who want and need a program that does not require a rigorous "active treatment" regimen that focuses on progress reports.

In his federal 2015 court order, U.S. District Court Judge Donovan Frank wrote, "The State must continue to assess its goals and priorities to ensure that they align with the goals and priorities of individuals with disabilities." And yet, "Here they are again, imposing their will on people with disabilities and providers," Barker said.

Merrick's leader is resolute to ensure that through MOHR, "we do all we can to educate clients, families, and legislators to ensure ADS remains an option for anyone with I/DD."