State rep is 'DSP for a day,' gains new understanding of field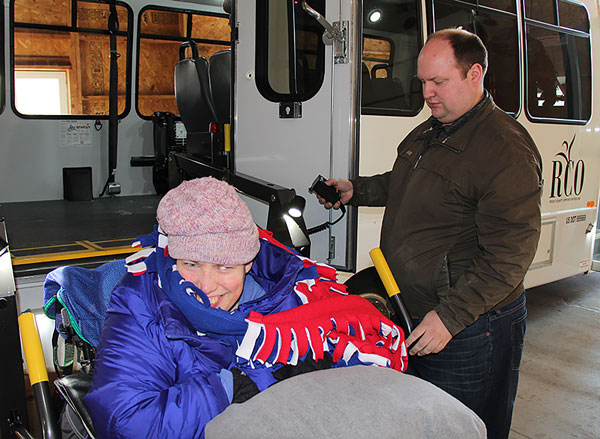 A state lawmaker gained frontline experience recently with personal care and transport assistance as a direct support professional for people with disabilities.
The legislator is Rep. Joe Schomacker-R, Luverne. The setting was Rock County Opportunities, a small southwest Minnesota hometown nonprofit in the 30-minute shadow of booming Sioux Falls, S.D. It serves 45 people with disabilities on weekdays.
Rep. Schomacker has been an advocate for RCO and similar service providers at the State Capitol.
"At some point it's kind of a 'put up or shut up issue,'" he said. "How do you advocate effectively if you can't take some time to see what they actually experience at the end of the day?"
The idea stemmed from a November 2019 experience with Governor Tim Walz, who served as a personal care attendant for a day with a residential provider.
Enlightened by individualized attention
The decade-long legislator, now 33, shadowed a lead DSP from 7:30 a.m. to 3 p.m., and there was not a slow moment. The state representative said he was
 
struck by how individualized the programs are, the amount of attention given to clients and the demands of the DSP positions.
"To see what kind of services are provided and how valuable those services really are has been worthwhile, definitely, for me."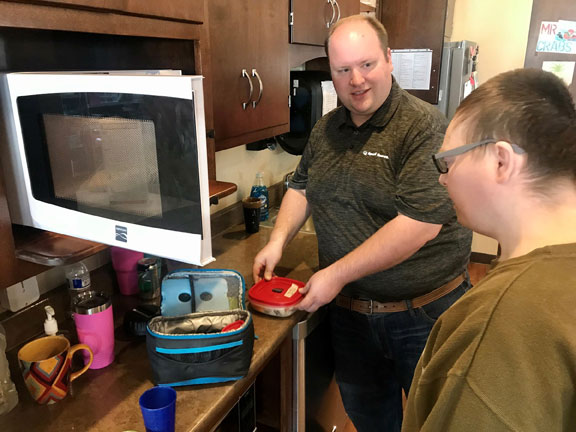 Job more mental than physical
The driver behind the realism is Elizabeth Schear, the executive director of RCO and one who isn't the least bit shy about telling their story. She said that while DSPs must lift people using equipment and catch them when they fall, the job is more mentally demanding than physical.
Planned routines are a healthy thing, and much of the DSP's job is to help people to stick to them, she explains. There are times when clients need to be redirected to stay on task.
Can't beat 'the real thing'
Rep. Schomacker has been to RCO several times, and drives by the building most every day. But those visits and community awareness didn't bring the same level of comprehension. "I understand what the service is and what the depth is now," he said. "You can't get all of that to sink in with just an hour-long tour of a center."
Another satisfying aspect of this work was seeing how individualized the activities are, the lawmaker explained. Fitting a few dozen people into a day and making it valuable to each one takes some work.
"They were here because they wanted to be here and to get something out of it. I think the community as a whole can get something out of it, too," he said.
Schear said it takes a passion to help others who need assistance to stay motivated and thrive in this field. Being a part of others' success can be very rewarding, too, and the public often doesn't understand the fulfillment staff find here, she explains.
Wage issues, turnover persist
Despite that satisfaction, it's been a struggle in recent years to attract and retain DSP staffers at RCO. Wages here start at $13.73 per hour and can rise to $15 after five years. Schear said RCO has seen a turnover rate of 70 percent since 2014.
Some leave to wait tables and make $30 an hour with tips, she said. Others go on to work in home care for people with disabilities or in a nursing home. Still others depart to work at an area veterans' home which has more benefits. One of RCO's primary attractions is its weekday hours and holidays off.
As part of a family flooring business, Rep. Schomacker knows the value of a dollar. He has had the chance to collect on bills by going door-to-door. "I only got chased off one property and I'm still working on one property," he said.
Patience is a huge part of a DSP's job, and compassion, the representative said. "But we offer them wages that are not as competitive as they should be."
Not all days the same
He thanked the staff for smoothing out the day, and acknowledged that others might be different.
"Some parts I thought were going to be a little more uncomfortable than others," he said. "That turned out not to be the case."
Schear was encouraged that her representative took the time out of his schedule to join them. Her hope is that his legislative peers will be inspired to try something similar in their own communities.
Rep. Schomacker knew some people at the place he drives by each day. Today, he knows many more. "Now, I have more people to wave at," he said.