Reopenings begin
One MOHR member provider that sprung back into partial action mid-week on June 10 was Achieve Services in Blaine.
 
Participants with disabilities got to work at four community sites, which included Medtronic and the University of Minnesota, explained Jennifer Dieter, development director for Achieve. Others worked with cards and foam gaskets at Achieve.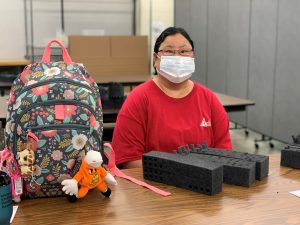 Staff had been covering the production work for almost two months. "It was nice to be able to bring in extra help to meet the deadlines for our business partners," said Dieter.
 
Thirty-seven participants among an initial group of 45 accepted the option to come back during Achieve's first phase. Clients were selected in part based on their ability to adhere to social distancing, wear a mask and have fewer needs for hands-on help.
The nonprofit was only allowed to serve individuals who live at home or on their own, not with a licensed provider such as a group home. This impacted the resumption of services, Dieter explained.
 
Clients in-house were limited to three hours of service while community sites did not have that limit, Dieter said.
 
Vehicles carried four to five people at most, and drivers checked rider temperatures. Parents and guardians would also sign off to verify that participants had no COVID symptoms, according to Dieter. Masks were required for transport and for all staff, but were strongly encouraged for participants. Most everyone complied.
 
Around the state, other programs had various dates for reopening, some toward the end of June.