Restrictions, fears bar needed services, prompt drastic revenue loss
It's hard to keep Steven Chase, 30, a man who has cerebral palsy, away from the MSS life enrichment program in Brooklyn Park, but shutdowns prompted by COVID-19 have dramatically changed his family's life, and put the future of the nonprofit MSS at risk.
Steven is cared for primarily by his father, Phil Chase, who quit his job in retail several years ago to become his son's full-time personal care attendant in their Champlin home. His mother, Kelly, works from home. Phil said MSS is like a second family to Steven.
Loss of services means loss of revenue
Unfortunately, a COVID-19 inspired shutdown that began in March has put the future of day service programs at risk, if emergency funding does not arrive soon from the state. Since the shutdown began through the end of May, MSS had lost about $700,000, according to its president, Julie Johnson.
And, Steven's elevated health risk for COVID-19 have brought many restrictions for him, personally. He is receiving some services virtually but will likely not return to MSS for quite some time. When a second staff furlough began on July 4, only two staff remained at Brooklyn Park, with reduced hours, MSS Director Heather Huff explained.
Steven uses a power wheelchair while there, and he controls it with sensors attached to his head. He cannot cover his mouth when he sneezes, would have difficulty wearing a mask and can't protect himself from others who may carry the coronavirus, his father said.
Virus risk delays life changing help
Before the virus, Steven would have bad nights like any other person, sometimes with tremors and restlessness, but would perk up when he was assured he could go in to MSS. "It would ruin his day if I were to say, 'Steven, you should stay home, get a few hours of sleep,' he was adamant (on going)," Phil explains. Going to MSS takes Steven's mind away from his difficulties. He can't wait to get there, and he does many things on site.
Like many others with disabilities, Steven benefitted from arts programming at the nonprofit, and built satisfying social network of friends he would often see. Day programs like MSS provide a major layer of stability to lives that can be turned upside down by disabilities.
"He definitely wants to go back," said Phil. "We're just hoping that somehow, they can come up with testing and just some way of getting it to where the infection rate is way down." Steven is nonverbal, uses a device to communicate and is dependent on others for much in life. "His attitude toward life is fantastic," said Phil. "And, MSS is a big part of that."
Life enrichment takes many forms
The family chose MSS when Steven was 21 because of its strong life enrichment programs. There's art instruction, cooking, outings and walks, to name a few things. In normal times, staff are in touch with the Chase family daily and Steven returns home to use his device to share what he did that day, according to his father.
He is very sensitive to the condition and feelings of others, Phil explains. Steve doesn't want people to feel bad or be hurt. Emergency sirens make him think that someone is in trouble. Phil said this is hard for people to understand. His son has a lot of compassion.
On a normal Sunday, Steven would talk about what he was going to do at MSS on Monday. He would pick out his clothes to match colors for an art project. Today, there are Zoom online classes covering everything from dance parties, to Monopoly and nature walks. The idea is to keep learning and interacting with others.
Steven and his father get out for bike rides together, with the son in tow. The family is extra cautious in public with social distancing and mask wear.
Virtual services help, not long term solution
MSS in Brooklyn Park has not reopened. Sites in St. Paul and Oakdale have, to serve limited numbers of people for shortened hours each day. Capacity is down dramatically due to COVID restrictions.
"We continue to provide virtual services to people in all living situations as a way to stay connected and combat the effects of loneliness and isolation," said Johnson. The nonprofit has received positive feedback for its online offerings.
Families are concerned about isolation for their loved ones and the impacts on their mental health, said Huff. Some have had difficulties balancing work and caring for their adult children. Both staff and families are anxious about the long-term effects the COVID-19 closures may bring, she said.
Unfortunately, limited services at two of its six facilities and virtual enrichment activities will not be enough to sustain the nonprofit long term. The integration-geared structure relies heavily on services delivered in person, and in the community. There are many precautionary restrictions in place right now.
The future of many nonprofit service providers is in jeopardy. Before COVID-19, MSS was serving 500 people with disabilities and now serves just 80. While it provides virtual enrichment services to a group of people, the combined revenue is not enough to sustain all services over the long term.
No help, as costs mount
No significant financial help has come from lawmakers in St. Paul and the governor to sustain the nonprofit under COVID-19 restrictions that have cut its funding dramatically. "We need people to ask the Legislature to appropriate funds needed to retain the service structure," said Johnson, who also serves as president of MOHR.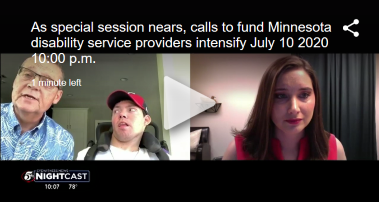 "It is very easy to love what you do when you work for MSS," said Huff. "Supporting people in living their best life, helping them experience new opportunities, and building meaningful relationships is important to all of our staff. Even through the closure, staff are staying involved in individual lives and continue to talk about all the fun they are having working on virtual services."   
The situation is the same for many Minnesota providers like MSS, of which there are about 100. Members of the Minnesota Organization for Habilitation and Rehabilitation (MOHR) and families that rely on their services have been pleading with lawmakers to approve a retention grants package. The funds would help to sustain them until COVID-19 restrictions are relaxed and normal service levels return. For many, the bulk of the funding comes from state dollars with a federal match, but with few clients to serve, the providers cannot bill and support their operations.
In the June special session of the Minnesota Senate, senators unanimously passed Senate File 133 to provide emergency funds for Minnesota disability service providers. While the Minnesota House had a bill ready for the July special session, it did not receive a vote. It was unclear if a bill would be considered during a special session in August. Minnesota legislators are expected to be called back on August 12 for another opportunity to respond to a monthly extension of Governor Tim Walz's peacetime emergency powers.
The Chase family was interviewed by KSTP 5 Eyewitness News as part of an extensive series.