Past Outstanding Disability Employer Award winners
2019
Arby's - Twin Cities
Member: Opportunity Partners


Arby's restaurants challenge their employees from Opportunity Partners by adding job responsibilities and promoting them when merited, said Ben Kopnick, "Together Works Better" coordinator with Opportunity Partners in Minnetonka. They welcome people with disabilities as employees right away, working to integrate them in their workplace culture."
Rexanne Mullihan, area supervisor for Arby's Restaurant Group, said the support from Opportunity Partners has been awesome. "They are here frequently in the beginning, helping out as needed and making sure that the new team member not only fits our needs, but that we fit their needs as well.
Individuals from Opportunity Partners clean tables in dining rooms, greet and thank guests and engage them in conversation as they become more comfortable, Mullihan explains. Beverage, condiment and napkin areas are cleaned. Team members from the nonprofit also fill orders, work with slicers and fryers. "Dining room ambassadors" take pride in helping clean the dining area, said Kopnick. There's enjoyment in interacting with customers, learning new skills and getting paid for it. People with disabilities are in visible roles at the restaurants, which further illustrates their value to the organization, he explains.
Brunson's Pub - St. Paul
TSE, Inc.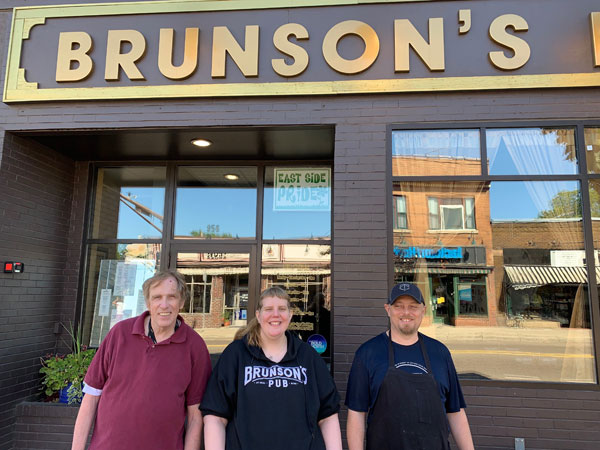 Brunson's Pub is a neighborhood gathering place where the community comes to enjoy delicious food and drink, said Jim Freeman, employment services director for TSE, Inc.

Co-owner Tom LaFleche helps push individual staff members supported by TSE to their limits, because he understands what their limits are, said Freeman. "They know they are part of the team and Tom and his staff have a good relationship with our job coach, as well."
 
TSE supports three individuals at the pub, two in cleaning positions and one as a dishwasher. A job coach stops in daily the check on their progress and coordinate with managers and staff.
Even before the establishment opened in 2017, LaFleche was exploring how he might employ people with disabilities. "It's been a lifelong dream, not just to open a restaurant and be successful, but to impact people's lives in a positive way," he said.
Freeman said LaFleche always listens whenever anyone has questions, concerns or something on their mind. "He is willing to take the time to hear folks out, give advice or just be there for them to vent to." One of the cleaning staffers supported by TSE said the owner is an amazing and understanding man who is nice to everyone, especially those with disabilities.
Medtronic - Twin Cities
Rise

In providing community-based services to individuals with disabilities Rise has partnered with Medtronic for almost 40 years, explains Nancy Hoff, senior sales and marketing representative with the nonprofit.
Dozens of individuals from Rise have served Medtronic in roles including office specialists, component assemblers, shipping, receiving and warehouse clerks, equipment sterilizers and mini-truck delivery staff.
"Medtronic counts on Rise workers and considers us as a 'preferred/labor resource,'" said Hoff. The Fortune 500 company also sends contract work to production locations operated by Rise. Its teams build material return kits,
collate and assemble training kits and assemble mailings.
To help individuals with disabilities to be successful, Rise offers a number of services in connection with the work for Medtronic. Vocational evaluations, career planning, job placement and follow-up support are among them. These individuals go through the same on-the-job training as other hires at the company, Hoff explains. Some receive a follow-up support to assist with training, acclimation and transition periods.
Janice Grendahl has worked for more than 30 years in several different departments at Medtronic. "I am never bored and have loved my work, no matter where they ask me to work or what my job duties are," said Grendahl. "I have learned a lot and know they like my work."
Mille Lacs Wild Rice Corporation - Aitkin
Aitkin County DAC

"Mille Lacs Wild Rice embodies a work environment of acceptance and appreciation," said Tammy Jo Johnson, executive director of Aitkin County DAC. "All staff who work there are treated equally." The nearly 100-year-old business has a crew of six supported by the DAC.
The group fills and weighs rice sacks, packs cases, labels items by hand and with equipment, heat seals, sorts and stacks product. They also assemble display cases with rice box contents and handle cleaning duties, Johnson explains.
Aitkin County DAC provides a job coach for the crew who has taught members to be dedicated, focused and proud of the work, Johnson said. There is fun and competition in the workday to exceed packaging goals. The supportive nonprofit also handles transportation for the crew.
Johnson said Mille Lacs Wild Rice staff and owners are in regular contact with team members to promote learning and verbalize their appreciation for them. They also hold employees accountable and teach fair work ethics, she said. The enclave team from the DAC is included in staff functions, trainings and food parties. They receive company clothing and, of course, free wild rice.
Pizza Ranch – Elk River
Options, Inc.
"Pizza Ranch provides a very supportive and family-like atmosphere," said Denel Bonine, an employment specialist with Options in Big Lake, which nominated the restaurant for the award. Pizza Ranch has employed many individuals with disabilities over its 8-year relationship with the nonprofit."These guys are awesome," said Denise McDonald, the who owns the restaurant franchise with her husband, Rob.
They employ eight people with disabilities, many supported by Options. A former high school teacher, she previously worked with special ed students in the classroom.
McDonald says she is honest, doesn't play games with staff and addresses situations. There's guidance, and correction as needed, she explains. "It's really important to be truthful in a loving manner."
Individuals work in all areas of the pizza and fried chicken establishment, said Bonine. There's the "front of the house," bussing, food service and dishwashing. She said the restaurant is very good at training, identifying people's strengths and areas of growth, communication, problem solving and natural supports. The latter refers to assistance from Pizza Ranch staff apart from job coaches and other help provided by Options.
Pizza Ranch - Monticello
Functional Industries
"Pizza Ranch has been a leader in taking on individuals with disabilities in terms of hire and for different work experiences," said Ashley Nordlie, placement services manager with Functional Industries in Buffalo. Nordlie said the restaurant does an "impeccable" job of providing a successful environment for individuals to thrive.
The restaurant has received many positive comments about staff members from Functional via its customer reporting system, explains General Manager Allison Swartzer. One parent said their son has disabilities and they can't wait for him to apply at Pizza Ranch.
"The community rapport and positives from staff are out of control. It's been a great experience," she said. "We never thought about it, but (determined) we could totally do this. It makes you think outside the box."
The restaurant recently celebrated the retirement of a staff member placed by Functional Industries who was with them since they opened, for eight years. Another person from Functional has a fan base of customers who ask for him regularly when they come in, Swartzer explains.
RDO Equipment - Ada
Norman County DAC
The Norman County DAC has worked with RDO equipment for 7 years, and eight individuals with disabilities currently work shifts at the business. "RDO has made the lives of the people with disabilities we support more full, because they feel included, important, and part of a bigger purpose," said Hiliary Chisholm, executive director of the DAC.
"When working at RDO, they are not a 'client' doing 'cleaning' for the company. They are a friend, helping to get a job done."
Individuals from the DAC clean the entire RDO facility, organize products on shelves, tidy up offices and perform other functions. Chisholm said there is friendly banter and regular conversation. RDO sells, maintains and repairs farm equipment and is a partner to customers around the world who "build, feed and support our communities," according to its website.
Located about 40 minutes north of Fargo, in the Red River valley, the Ada dealership is a medium-sized facility that is part of a large company, explains Store Manager Chris Willison. There are many tractors on display, large and small. "We've had the same crew (from the DAC) for a while and they do a very good job," said Willison. "They take a lot of pride in their work."
Target - Edina
Partnership Resources

PRI has had teams of four individuals with disabilities and a job coach at the Edina Target store consistently, since 1997. They're proud to wear Target red and khaki colors, said Terri Bauernfeind, program director at PRI. "The PRI team has seniority and longevity that is not usually found in retail. Every day, PRI team members know they are wanted and appreciated."

Target Store Manager Richard Dean said team members from PRI display a passion unrivaled for their jobs and for store guests. "They come to work every day to make Target a better experience for the guest through helping ensure the store is stocked, as well as helping guests find their items."

PRI calls the Target partnership a "competitive and integrated setting," which means the PRI team members are hired directly by Target and work alongside other staff. PRI job coaches provide support as needed. Raises are given annually, and the PRI team members all make considerably more than minimum wage, according to the nonprofit.

Bauernfeind said there's direct contact and direction each day to complete tasks. These include stocking shelves, finishing "back stock," collecting carts and cleaning the store, as well as helping customers. The group is well recognized by many regular customers at the store, who rely on them to answer questions and direct them to merchandise, Bauernfeind explains.
---
2018 Outstanding Disability Employers

2017 Outstanding Disability Employers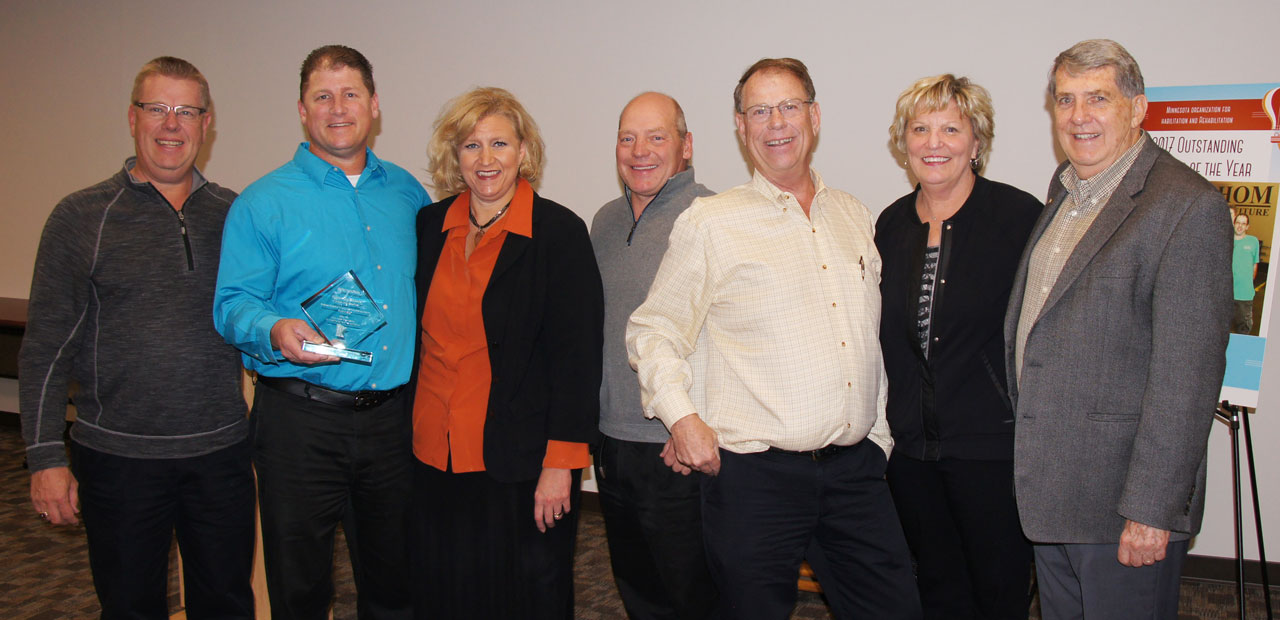 HOM Furniture was recognized in 2017.