2020 Outstanding Disability Employer Award winners
"Employers tap into this great talent pool and give people with disabilities an opportunity," said Julie Johnson, president of MOHR. "Organizations will be stronger if they hire these talented and dedicated people. They will quickly see the benefits of an inclusive workforce." MOHR represents more than 100 disability service providers across the state.

Johnson said employers help people with disabilities to pursue their goals, earn decent wages and contribute to the economy as part of their communities. "Supporting people to live a community connected life is a large part of what MOHR providers do for the people they support."


Activar, Inc. - Bloomington
MOHR Member: Rise
 
Activar is an American manufacturing and distribution company engaging in construction, plastic, technical and industrial products and services. As many as 10 individuals from Rise work at the large Bloomington plant along with other Activar employees. They produce metal wall cabinets used by businesses around the world.
The work is fast paced, and the Rise team is tasked with the finishing steps. They bring in parts from the warehouse, assemble them, do quality checks, package and palletize completed cabinets to be sent back to the shipping department, explains Keith Hovland, Rise Director of CBTE and Support Services.
Activar was considered an essential business during the COVID-19 period as its cabinets are used in medical facilities. Some of its contracts are for the United States government.
The Rise group expresses excitement in their assembly of fire extinguisher cases and seeing their work products in the community, he said. Activar provides ongoing supports for individuals from Rise at two locations and continually looks for other opportunities for the people it serves, Hovland explains.
Cub Foods - Buffalo
Functional Industries
From job shadowing experiences to job tryouts and job placements, Cub Foods in Buffalo utilizes people with disabilities in a variety of positions within the store. Individuals work in the deli, on the cleaning team and on the sales floor.
"The management team at Cub Foods does a fantastic job of allowing individuals to 'move around' and explore different jobs in different departments to find the best fit, one that makes the individual the most happy," said Ashley Nordlie, placement services manager for Functional Industries.
A common goal when serving people with disabilities in employment situations is to look for "natural supports," or ways in which an employer helps maintain a staff member's success after support from the disability service provider ends. An individual employee's independence and self-worth become apparent when the coaching supports fade out and natural supports take over, she said.
And, when an employee with disabilities is struggling in the job role, Cub sought help from Functional Industries to help the person get back on track and stay employed, said Functional Industries Case Manager Travis Harwarth. "It's definitely above and beyond and really shows a level of caring and compassion that you would just not see from an employer towards an employee," he said.
Cub Foods will also call Functional Industries when certain positions open up. And, it makes accommodations as needed. Supported Employment Case Manager Deb Ebner said the store follows disciplinary action policies, but puts flexibility into the process to accommodate people with disabilities who have not yet acquired the skills needed to be successful in all aspects of a job.
Ferlic Filter LLC - White Bear Lake
Merrick, Inc.

Purpose, inclusion, and empowerment are a few of the benefits that crewmembers with disabilities enjoy in their work for Ferlic Filter, a medical supply company. Individuals from Merrick handle X-ray cassette covers and filters used by hospitals and diagnostic centers across the United States. These are bundled and packaged using specially designed bags of different sizes.
Ferlic Filter owner Carly Nelson visits with Merrick clients regularly to build and maintain relationships with the crew, said Karen Herrera, development and communications director for Merrick. There are team-building activities and pizza parties, complete with drawings for prizes and gift cards to celebrate the great work of the crew. "Carly feels that it is crucial that she personally express her gratitude to the people who play such a key role in her company, and she does this by being genuinely interested in their lives and by showing them how appreciative she is of their work," said Herrera. "She wants clients to know that they are not taken for granted."
Merrick practices person-centered planning to support new and current clients in identifying their goals, needs, skills, and passions to connect them to preferred work, she explains. It also provides direct support professional (DSP) staff members, in particular for the Ferlic Filter crew, who supervise and provide support. The DSPs keep up on product supplies, double-check work quality, and provide on-the-job training and coaching, she said. They also increase access to job functions by organizing the work around individual abilities, and sometimes create "jigs" which make the work possible for some with physical limitations.
The clients appreciate the steady work and wages Ferlic offers them, Herrera explains. Many are proud to save their earnings over a period of time to make larger purchases or take a trip. When production goals increase, especially now during the COVID-19 pandemic, the crew puts in the extra effort and is proud to meet the demand for more medical supplies. Ultimately, the work provides a sense of purpose for crewmembers, who know they are a part of something bigger than their day-to-day lives, Herrera said.
Lakeview Methodist Health Services - Fairmont
STEP, Inc.

Employees with disabilities at Lakeview Methodist Health Services, a long-term care facility in Fairmont, had to step up their efforts when COVID-19 hit. STEP, Inc. supports eight individuals who were hired
directly by Lakeview Health, customizing their approach to each person's needs. The long-term care staff work in laundry, foodservice and custodial operations.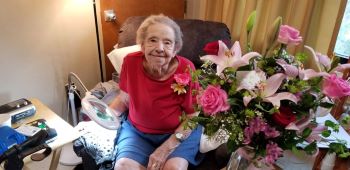 "The biggest responsibility for our job coaches is to set up the employee for success, not to fail," said Dominique Berg, employment service manager for STEP. Cooperation and communication with Lakeview have been strong, and important to the success of each employee. Support levels are flexible as STEP can either ramp up or pull back depending on the response from Lakeview and the individual employee. "We never 'stop and drop off' an employee," he said. "We are always there in one capacity or another."
Lakeview Health Food Service Director Dru Egeness said the relationship with STEP began about 10 years ago when the nonprofit sent a person to train in the care facility's kitchen. Egeness was "overjoyed" to make the hire. Individuals from STEP work alongside other staff to complete the work. "It is so great that for the clients I hire with some challenges, STEP provides a coach," he said.
Lakeview Health pays good wages for good employees, the employment service manager said. And, all of the employees are respectful toward the residents. Work hours have increased for some, and that financial growth and added work history is helpful to each individual, he explains. "I see confidence, happiness and a sense of accomplishment in many of the employees," he said.
There are additional benefits, as well. "I just had a client tell me the other day that he has been at Lakeview for one year, and he was smiling ear to ear!" said Egeness. "Thanks again for the award, and it is my pleasure to have these individuals work for us."
Lunds & Byerlys - Twin Cities
Opportunity Partners

Tres Lunds, president and CEO of Lunds & Byerlys, said the dedication of store employees has been amazing throughout the pandemic. "We are so remarkably proud of our entire family of Lunds & Byerlys employees for the way in which they have delivered an even added level of care and comfort to our customers during these uncertain times," he said. "And the reality is every member of our staff has remarkable abilities that allow us to deliver on our mission of creating sensational working and shopping experiences."
Opportunity Partners is typically engaged with six or more Lunds & Byerlys stores, making site visits to coach employees, check on their progress and meet with managers, explains Cara Buettner, an employment specialist with the Minnetonka-based organization.
"
Lunds & Byerlys works to ensure its employees with disabilities are comfortable and confident in their positions," she said. There's comprehensive training, which helps employees to understand the company's history, their duties and expectations. Another employment specialist, Nick Jensen, said the grocer is truly a notch above other employers in providing job opportunities and working with community disability partners.
The stores allow individuals supported by Opportunity Partners to try different positions in the company to determine which might be the best fit, Buettner explains. And, there's flexibility for situations such as when an employee wants to follow a particular manager to another store location.
The employer was also sensitive to individual employee situations during COVID-19, allowing staff to take time off as requested based on their personal level of comfort or related health situations. One staff member supported by Opportunity Partners asked for a full month off when the coronavirus first became prevalent. "Lunds & Byerlys supported his request and welcomed him back when he was comfortable returning," she said.
Target - Duluth
Trillium Works!

A well-known Minnesota retail giant creates customized job positions for people with disabilities and instills a sense of independence and pride. "Target has employed several people we support over the years, and has looked at each individual for the strengths they have, and the contributions they can bring to Target; not the tasks they cannot do," said Liz Glesner, a Program Supervisor with Trillium Works!
Trillium provides job coaching, transportation and weekly check-ins to Target employees. The service is flexible, depending on the independence level and comfort of the individual team member, Glesner explains.
Team members at Target, supported by Trillium, put away clothing, collect carts, clean, greet guests and hand out samples. The store is skilled in communicating any changes to a person's position or routine to that team member in the communication style that best works for them, with Trillium Works! providing support along the way. The company tries to create the perfect job fit, Glesner said, determining where the individual feels he or she would best succeed and enjoy the work.
"Target does a wonderful job of recognizing both big and small achievements, which could range from moving from temporary to permanent employment, to remembering the order of sizes," said Glesner. "They are amazing at celebrating all accomplishments, which has helped the people we support to exhibit more self-confidence and self-worth."
When changes prompted by COVID-19 arrived, Target made sure its team members were comfortable in their positions, the Program Supervisor said. Many individuals supported by Trillium took a leave of absence, and Target paid them for part of that time. The store checked in with their team members, with assistance from Trillium Works! to follow up and ask about them returning to work. Some took longer leaves of absence to decide if they would come back. "Target was understanding of each individual's decision and also encouraged them to reapply when they could," Glesner said.
Unidine Corp. - Twin Cities
Chrestomathy, Inc.

An elegant senior dining facility in Minnetonka and its foodservice provider, Unidine, have served as an excellent, supportive workplace for people with disabilities. Unidine is a part of the Compass Group North America company, which has other
service providers with which Chrestomathy has established a working relationship, said Kara Townsend, vocational director for Chrestomathy's three locations.
"Chrestomathy has worked with several managers at their company locations, and the managers have made it clear that this is a 'partnership' with us in helping the individuals we support to be successful at their work," she said.
One employee supported by Chrestomathy, Jill Nieman, receives on-site job coaching supports for her role as a dining aide and server at The Glenn Minnetonka. Her hiring manager went out of her way to negotiate schedules with staff to create openings based on Nieman's transportation, Townsend explains. There were a few physical challenges to navigate, and the company helped her to complete her tasks with less struggle and more independence.
"We have had many successful job placements with them since we started in 2016," she said. Nieman was previously supported by Chrestomathy in a dishwashing position at the Vikings Twin Cities Orthopedics Performance Center facility. Her change to The Glenn Minnetonka site offered more hours. Part of her duties involve serving meals to residents in the memory care areas of the facility.
Unidine is adept at listening to Nieman and other staff in daily line up meetings, the vocational director said. Leaders provide feedback and helps members of the team to grow professionally. "Jill, in turn, feels great about her job contributions and commitment to excellence, which benefits the residents at the facility, and she loves being part of a great team," said Townsend. Social dynamics at work can sometimes be difficult for people with disabilities to figure out, as well as managing stress. Unidine, says Townsend, practices open communication and values her as a team member, which builds confidence for her to communicate directly with her manager and coworkers.
Westwood Early Childhood Center- St. Louis Park
Partnership Resources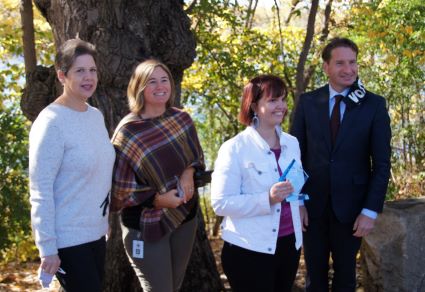 As part of Westwood Lutheran Church, Westwood Early Childhood Center has hired individuals through Partnership Resources, PRI, to support its kitchen operations. PRI supports these individuals on the job to help make them successful, explains PRI Program Director Marijane Oquin.
"WECC has gone above and beyond to support our client, Allie Henley, in her role as a kitchen aide," she said. The center updated a list of duties, created a new checklist and provided an embroidered apron for her, Oquin explained.
The center provides year-round child-care and education to infants, toddlers and preschoolers, focusing on their social, cognitive and spiritual development. Henley supports seven classrooms, washing dishes in a commercial kitchen, Oquin explains. The duties involve sanitation. She also helps with large events such as funerals.
Kellee Nelson, director of WECC, said the center believes in diversity and inclusion, and that communities should include individuals with different gifts, talents, and abilities. "Our ability to embrace individuals with special abilities and provide the
m with opportunities to work within a caring environment reflects our values, and promotes practices we hope to see in mainstream society," said Nelson. "It has been a joy to work alongside Allie and support her professional goals!"
PRI brings job coaching twice weekly to support the individual employee, while encouraging independence and inclusion as well as positive "natural supports," provided by the employer. What was formerly a dishwashing position was expanded to the kitchen aide role to foster personal growth for Henley, said Oquin. The PRI client also assists a food specialist with "food explorations" to teach students about food topics in unique and fun ways. The kitchen aide has also been encouraged to share her faith through preaching.
When the COVID-19 precautions began in March, WECC closed for six weeks, but continued to pay Henley during that time. Then a limited number of children returned and staff had reduced hours. Work hours increased slightly in September and WECC expressed its commitment to getting her back to regular hours as soon as they could. "They see value in the employee's position and are ensuring retention of the position, long-term," Oquin said.
MOHR's mission is advocate and support its nonprofit members in providing meaningful services to persons with disabilities and communities served. Members are committed to respect for each individual, a person-centered approach and expanding work opportunities.

Celebrated every October, this year's theme for National Disability Employment Awareness Month is "Increasing Access and Opportunity." It celebrates the contributions of workers with disabilities and educates about the value of a workforce inclusive of their skills and talents. The national observance began under a different name in 1945.
---
2019 Outstanding Disability Employers
2018 Outstanding Disability Employers

2017 Outstanding Disability Employers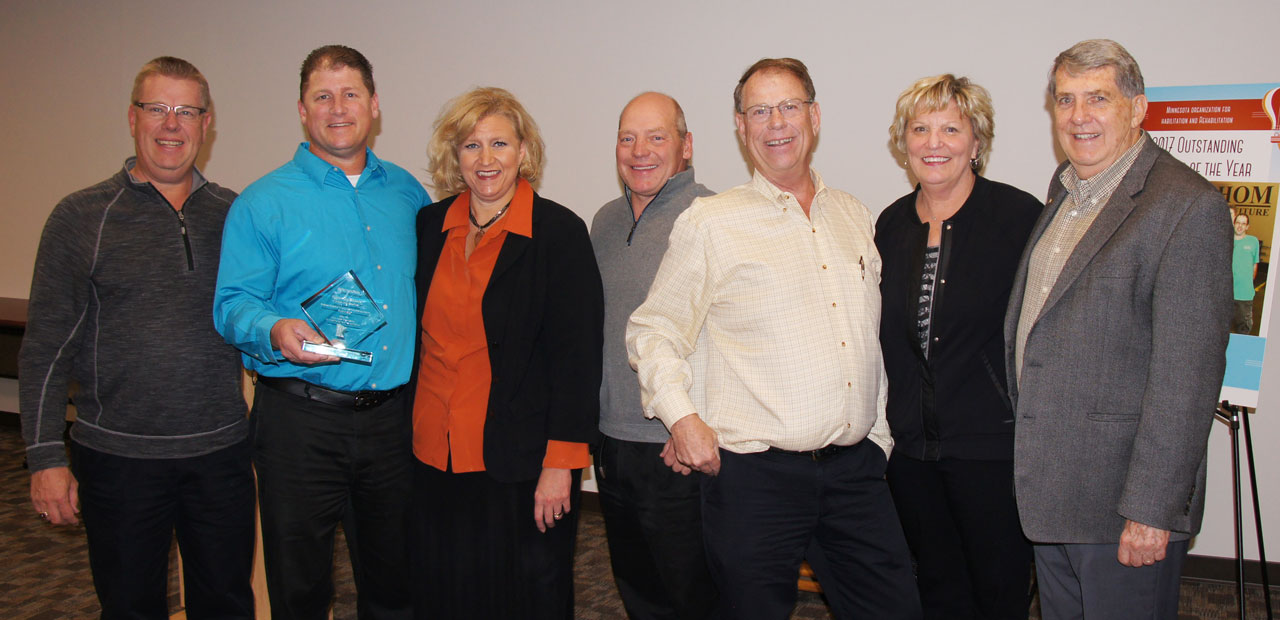 HOM Furniture was recognized in 2017.